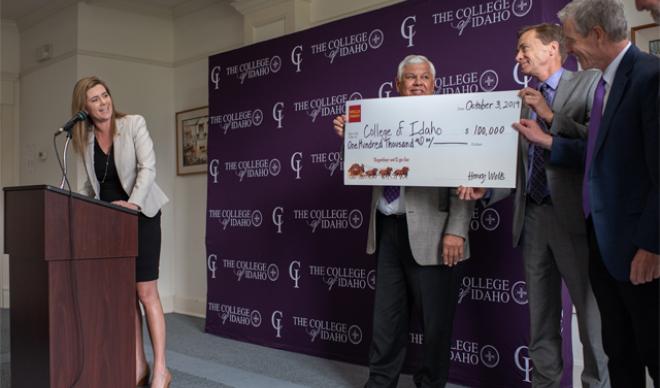 Amidst a crowded Hendren Board Room inside Sterry Hall, representatives of Wells Fargo Bank stood with leadership and students from The College of Idaho, holding a check for $100,000.
The check represented the first step of the largest grant ever awarded by Wells Fargo in the state of Idaho and it is directly aimed at supporting diversity and inclusion on the College's campus. The diversity and inclusion was represented in the room, too, with a large number of international and minority students in attendance who will ultimately benefit from the grant.
"You understand your culture here, you're building something that makes sense, you're building something that is preparing students for the future of the world," said Don Melendez, Western Idaho Regional Banking President for Wells Fargo. "It's not just Idaho, it's not just next door. You're preparing them for what's out there."
The grant will serve three primary functions on campus:
Support the College's Inclusion & Intercultural Engagement program.

Scholarships for Hispanic/Latinx students.

Revise curriculum to include more diversity and inclusion outcomes.
Those functions are exactly what brought sophomore Parker Archuleta, who is of Mexican, Hispanic, and Basque descent, to The College of Idaho.
"I'm glad to see the program is continuing to grow," said Archuleta, who is majoring in marketing & digital media. "This was the college that wasn't just sending me a group e-mail. Arnold (Hernandez, the College's Director of Inclusion and Intercultural Engagement) recruited me actively."
Wells Fargo has been involved with the College before, supporting its first-generation student program, and Melendez now serves on the College's Board of Trustees. This grant, when complete, will total $150,000.
"Looking at the ripple effect of this work impacting the broader community for years to come is incredibly exciting," said Molly Lenty, Community Affairs Manager for Wells Fargo. "I know the importance of this work in any community but especially here, locally, to know that we have this tremendous resource and leadership is inspiring."
To watch the entire announcement, please click here.
The College of Idaho has a 128-year-old legacy of excellence. The College is known for its outstanding academic programs, winning athletics tradition and history of producing successful graduates, including seven Rhodes Scholars, three governors, and countless business leaders and innovators. Its distinctive PEAK Curriculum challenges students to attain competency in the four knowledge peaks of humanities, natural sciences, social sciences and a professional field—empowering them to earn a major and three minors in four years. The College's close-knit, residential campus is located in Caldwell, where its proximity both to Boise and to the world-class outdoor activities of southwest Idaho's mountains and rivers offers unique opportunities for learning beyond the classroom.  For more information, visit www.collegeofidaho.edu.