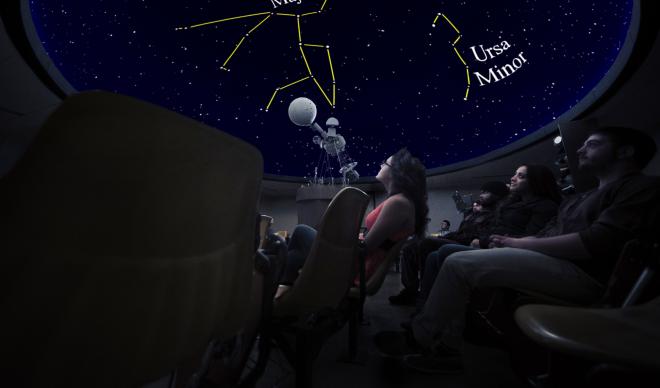 Due to popular demand, The College of Idaho's Whittenberger Planetarium will add a second public show at 3:30 p.m. on Saturday, Dec. 1, "The Winter Solstice," which will be about the upcoming event representing the shortest day of the year.
Planetarium Director Amy Truksa will lead planetarium visitors in an educational examination of the solstice, which heralds the official start of the winter season and is scheduled to occur on Dec. 21.
"What brings about the short days and long shadows of winter?" Truksa said. "The Winter Solstice explores the solstices, equinoxes, and the celestial circumstances that bring them about. We will also take a look at some of the constellations and planets visible in the Idaho night sky this month."
The show will begin at 7 p.m. in the Whittenberger Planetarium on the C of I's campus. Advanced ticket purchase is strongly encouraged due to limited seating. Admission is $6 for adults and $3 for children. Tickets are available online at http://www.collegeofidaho.edu/planetarium.
The planetarium is located in Boone Science Building near Jewett Auditorium on the corner of 20th Ave. and Fillmore St. in Caldwell.
The College of Idaho has a 127-year-old legacy of excellence. The C of I is known for its outstanding academic programs, winning athletics tradition and history of producing successful graduates, including seven Rhodes Scholars, three governors, and countless business leaders and innovators. Its distinctive PEAK Curriculum challenges students to attain competency in the four knowledge peaks of humanities, natural sciences, social sciences and a professional field—empowering them to earn a major and three minors in four years. The College's close-knit, residential campus is located in Caldwell, where its proximity both to Boise and to the world-class outdoor activities of southwest Idaho's mountains and rivers offers unique opportunities for learning beyond the classroom.  For more information, visit www.collegeofidaho.edu.