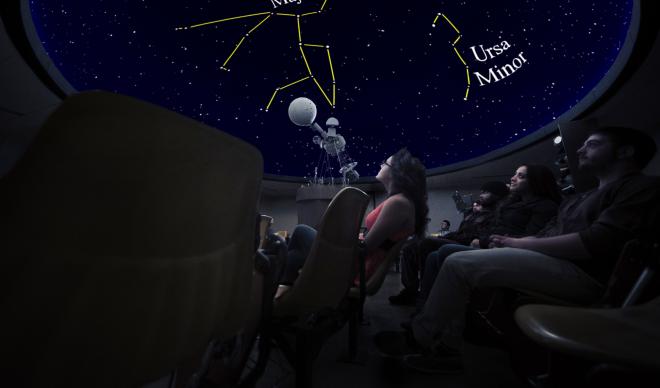 The final days of summer are coming to a close, but The College of Idaho's Whittenberger Planetarium will ring in the start of the fall season with a public show recognizing the 2018 Autumnal Equinox at 7 p.m. on Friday, Sept. 21.
Hosted by Planetarium Director Amy Truksa, the public show will teach planetarium visitors about the circumstances that bring about equinoxes and solstices, explaining what they each mean and showing an overview of the constellations, planets and moon that will be visible in the September sky.
"The planetarium is a tool that can help us gain a better understanding for what is really causing the days to get shorter and cooler," Truksa said. "The planetarium is a great place to rediscover the night sky and to remind us what is right outside our doorstep every night. We are really fortunate to have one of the few planetariums in Idaho right here in our community."
Tickets for the show cost $6 for adults and $3 for children between the ages of 4-17. Visitors should arrive at least ten minutes prior to the show's beginning due to limited seating and should purchase tickets in advance at https://www.collegeofidaho.edu/about/campus-facilities/planetarium.
The Whittenberger Planetarium is located in Boone Hall on The College of Idaho campus near Jewett Auditorium on the corner of 20th Ave. and Fillmore St. in Caldwell.
The College of Idaho has a 127-year-old legacy of excellence. The C of I is known for its outstanding academic programs, winning athletics tradition and history of producing successful graduates, including seven Rhodes Scholars, three governors, and countless business leaders and innovators. Its distinctive PEAK Curriculum challenges students to attain competency in the four knowledge peaks of humanities, natural sciences, social sciences and a professional field—empowering them to earn a major and three minors in four years. The College's close-knit, residential campus is located in Caldwell, where its proximity both to Boise and to the world-class outdoor activities of southwest Idaho's mountains and rivers offers unique opportunities for learning beyond the classroom.  For more information, visit www.collegeofidaho.edu.