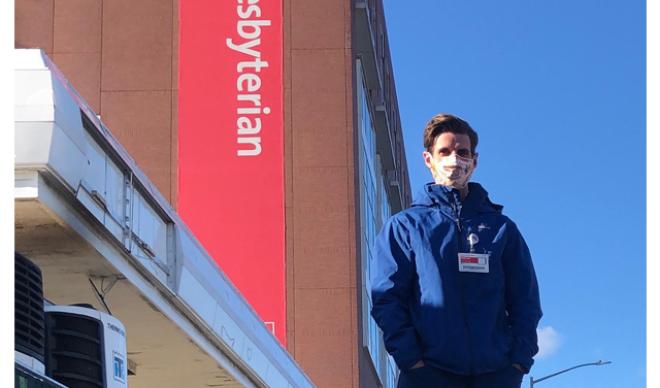 Montana Patton found himself in one of the early epicenters of the COVID-19 outbreak in the United States as a nurse in Seattle.
As that curve flattened a bit, he headed to another epicenter: New York City.
"The first couple days of April, I got floated the idea of going to help in New York from a friend," the 2013 College graduate said. "I got in touch with a recruiter working with New York-Presbyterian Hospital system in New York City, slept on the details a few days and discussed with my wife, and ultimately decided that I was in a perfect position and time in my life and career to help out."
So, after helping the University of Washington's medical center weather the initial COVID storm, he accepted a two-month job with the hospital in Queens, New York, and hopped on a plane. When he arrived, he found a situation that would be hard for most to understand.
"The nurse showing me around was exceptional. I could tell she was exhausted but she was glad to see me and eager to get me up to speed," Patton said. "There were two regular staff nurses there and then two of us were travelers (outside agency/contracted nurses), and she explained that the few days before it had been only two, maybe three nurses for the entire unit. I was blown away."
He explained that, traditionally, people who are sick enough to be in the Intensive Care Unit in a situation such as the COVID-19 pandemic have their own nurse, a one-to-one ratio. When he arrived, the ratio was four patients for each nurse. Compounding the problem, he said, was that many nurses were calling out sick each shift, which made the patient/nurse ratio even harder to maintain. The hospital had to get creative with its space due to the huge number of patients, turning the cafeteria into an emergency room holding area for patients not sick enough to get admitted into Intensive Care.
He called his first two weeks at New York-Presbyterian, "probably the hardest I have ever worked."
"Constantly running and moving between patients, mixing my own bags of medications because the pharmacy was completely overwhelmed and you can't wait for an hour," he described. "Taking care of four to five ICU patients at a time, multiple codes (patient needing emergency resuscitation), and deaths every shift. I had been spending one shift per week in our COVID ICU unit in Seattle, but this was an entirely different world."
As time has passed, more nurses have arrived to help. Patton says the patient/nurse ratio has improved to about two-to-one, which is much more manageable, yet still not ideal. Because he works in the ICU, he doesn't often get to see the ultimate success story – a patient being released to go home – but he said a large sign over the main entrance keeps the staff updated on how many patients have been discharged in the past 24 hours and how many total patients have gone home from that hospital.
"Ultimately this experience has been fulfilling," Patton said. "While it's challenging and scary, I've learned a lot and been able to help both patients and my fellow nurses."
Patton will be staying out east once his contract expires this month. He has accepted a job with the hospital at the University of Vermont and will be joined by his wife, Adrian (who graduated from the College in 2015). She just graduated from medical school in Seattle and will begin her professional residency in Vermont. The two met on campus and he credits his time in Caldwell with helping to shape who he is.
"It was an environment that constantly encouraged me to get involved, and fostered my curiosity for people and their contribution to our community," he said. "It played a huge part in helping me understand myself and others better, and to constantly challenge myself and find opportunities to help other people and improve my craft at the same time. It showed me the value of forming connections through every chapter of life."
The College of Idaho has a 129-year-old legacy of excellence. The College is known for its outstanding academic programs, winning athletics tradition and history of producing successful graduates, including seven Rhodes Scholars, three governors, and countless business leaders and innovators. Its distinctive PEAK Curriculum challenges students to attain competency in the four knowledge peaks of humanities, natural sciences, social sciences and a professional field—empowering them to earn a major and three minors in four years. The College's close-knit, residential campus is located in Caldwell, where its proximity both to Boise and to the world-class outdoor activities of southwest Idaho's mountains and rivers offers unique opportunities for learning beyond the classroom.  For more information, visit www.collegeofidaho.edu.