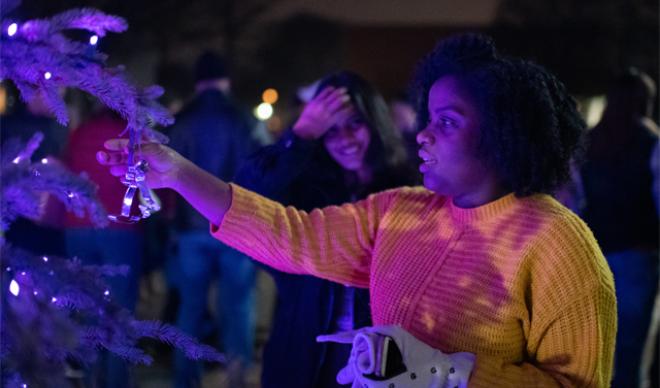 It's an annual tradition at The College of Idaho – the tree-lighting ceremony where the campus community comes together in front of Sterry Hall and celebrates the lighting of holiday lights on the tree.
Last year's ceremony took on a new look when it was shared online due to pandemic campus restrictions. A handful of students who were already on campus attended, but the bulk of the audience came via a first-time, live online stream of the event.
Director of Alumni & Parent Relations Danielle Dougherty Durham said the event went so well, with nearly 100 online connections to view it, that the online stream will be offered again this year. It will be carried live on the College's Alumni Facebook page starting at a few minutes before 7 p.m. (MST) on Monday, November 29.
However, the College is able to welcome guests onto campus this year, giving students, alumni, and friends both options: in-person and online.
"In-person, you get the same traditions we've always had in the past. We get to hand out ornaments, we get to give out hot chocolate," Dougherty Durham said. "We know people from far away will want to participate and it's not a heavy lift (to show the event online), so it just makes sense for us to make it available for friends and alumni all over the country."
The Yote Traditions Council is coordinating with the Alumni & Parent Relations department to produce the event. ASCI president Christian Garcia and senior Mia Maldonado will both speak at the event, which will include singing and refreshments. The program will begin at 7 p.m.
The College of Idaho has a 130-year-old legacy of excellence. The College is known for its outstanding academic programs, winning athletics tradition, and history of producing successful graduates, including seven Rhodes Scholars, three governors, and countless business leaders and innovators. Its distinctive PEAK Curriculum challenges students to attain competency in the four knowledge peaks of humanities, natural sciences, social sciences, and a professional field—empowering them to earn a major and three minors in four years. The College's close-knit, residential campus is located in Caldwell, where its proximity both to Boise and to the world-class outdoor activities of southwest Idaho's mountains and rivers offers unique opportunities for learning beyond the classroom. For more information, visit www.collegeofidaho.edu.