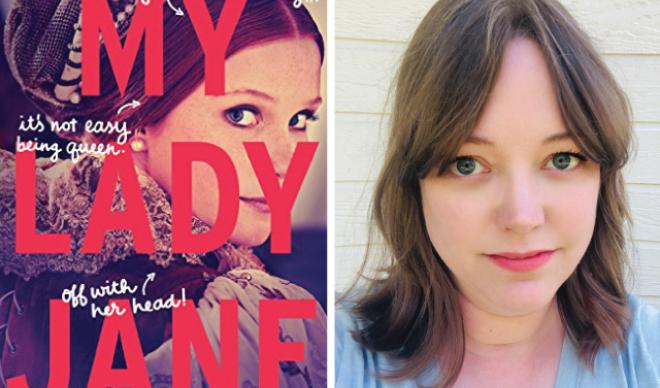 College of Idaho alumna Cynthia Hand '00 met fellow authors Brodi Ashton and Jodi Meadows while traveling for a book tour a decade ago. The three of them are preparing to travel together again this fall, but for an altogether different reason.
They're going to London to watch the filming of an Amazon Prime television series from a book the three of them wrote together.
The show, "My Lady Jane," is based on a book by the same name written by the three in 2016. The book is part of a series of books, The Lady Janies, which is based on historical figures but contains an element of fantasy.
"Having your book made into a TV series is a wonderful, surreal thing," Hand said of the television adaption. "It's a big deal, and we're very excited."
The series is being produced by Parkes+ MacDonald, the same production company behind such films as Men in Black, Gladiator, and Catch Me if You Can. The process of getting from the book to the television series is a long one.
"We first sold the option for this book before it was published (in 2016)," Hand said. "Since then, it has been in development at multiple production companies. At one point, Ridley Scott had it."
She says it is common for books to be "optioned" by producers for possible production into a television or movie later on. Getting from that point to finding a studio to pay for and ultimately film it is difficult, which is what is making the experience even more rewarding for Hand and her co-authors. The Lady Janies is a series of books – five have been completed, including My Imaginary Mary, which came out earlier this month, with one more in development – centered around historical figures with tragic stories.
"We take a young woman who we feel was not given a fair shot in history, and we give her a happy ending," said Hand, who majored in English and minored in history at the College. "We sort of rewrite the history for them."
In the case of "My Lady Jane," the story centers around Jane Grey, a teenager who served as the queen of England and Ireland for nine days in 1553 before being removed and ultimately executed as part of the prominent Catholic/Protestant conflict at that time. In the Lady Janies novel, this religious element of the history has been replaced by a more comedic, fantastic element: some people can transform into animals. "It's "The Princess Bride" meets "Lady Hawke" meets 'The Tudors,'" said Hand.
Emily Bader has been cast in the role of Lady Jane. She recently appeared in the 2021 movie "Paranormal Activity: Next of Kin" and has had a recurring role on the new version of television's "Charmed." Edward Bluemel, best-known as Hugo from the television show "Killing Eve," and Jordan Peters, whose credits include the role of Cheddar in the 2019 film "Blue Story," will play lead roles in the show as well.
Filming for My Lady Jane will take place in London. When completed, the show will be available on the Amazon Prime streaming video service.
The College of Idaho has a 131-year-old legacy of excellence. The College is known for its outstanding academic programs, winning athletics tradition, and history of producing successful graduates, including seven Rhodes Scholars, three governors, and countless business leaders and innovators. Its distinctive PEAK Curriculum challenges students to attain competency in the four knowledge peaks of humanities, natural sciences, social sciences, and a professional field—empowering them to earn a major and three minors in four years. The College's close-knit, residential campus is located in Caldwell, where its proximity both to Boise and to the world-class outdoor activities of southwest Idaho's mountains and rivers offers unique opportunities for learning beyond the classroom. For more information, visit www.collegeofidaho.edu.