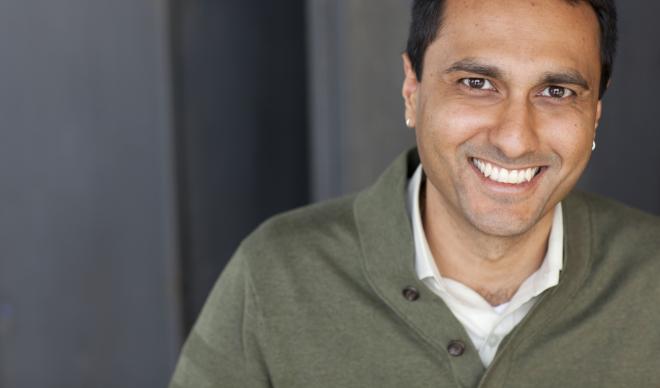 The College of Idaho's Carter-Chalker Lectureship on Faith and Contemporary Issues will host prominent sociologist and interfaith leader, Dr. Eboo Patel, for a Feb. 21st campus visit and public lecture. Patel's stay will include class visits, conversations with faculty and Student Life, and the free public lecture "Acts of Faith: Bridging Interfaith Barriers," which is set for 7 p.m. in the Langroise Center for Performing and Fine Arts on the C of I campus in Caldwell. 
Eboo Patel is a leading voice in the movement for interfaith cooperation and the Founder and President of Interfaith Youth Core (IFYC), a national nonprofit working to make interfaith cooperation a social norm. He is the author of the books Acts of Faith, Sacred Ground, and Interfaith Leadership. He is a frequent guest speaker on college campuses, a regular contributor to the public conversation around religion in America, and served on President Barack Obama's Inaugural Faith Council. Patel holds a doctorate in the sociology of religion from Oxford University, where he studied as a Rhodes Scholar.
"C of I is rich with religious diversity, and Dr. Patel's visit gives us the opportunity to consider ways in which we can bring people together, especially through cooperative service to our community," said Dr. Scott Draper, a professor of sociology at the C of I who specializes in the sociology of religion. "Building interfaith bridges is no simple task, but Patel's impressive experience as a scholar, as a leader, and as a person of faith makes his visit an invaluable resource for us, particularly at this moment in U.S. culture."
The Carter-Chalker Lectureship on Faith and Contemporary Issues was established in 2011 thanks to a gift from the estate of the late William Carter. The series, named in honor of Carter and retired C of I professor Dr. William Chalker, brings esteemed scholars of religion to campus for public talks.   
William Carter, who passed away in 2011, was a professional photographer in New York City. He did not attend C of I, but he maintained a positive relationship with the school his grandfather, Dr. William Judson Boone, founded in 1891. Carter believed religion had an important role in society, and he appreciated the forums on important issues that C of I provided for its students and the community.
Dr. William Chalker taught philosophy and religion at the C of I from 1960 to 1987 and also served as dean of the College. He authored the book Science and Faith: Understanding Meaning, Method and Truth and in 2007 received The College of Idaho President's Medallion. Dr. Chalker passed away in 2016.
The College of Idaho has a 125-year-old legacy of excellence. The C of I is known for its outstanding academic programs, winning athletics tradition and history of producing successful graduates, including seven Rhodes Scholars, three governors, four NFL players and countless business leaders and innovators. Its distinctive PEAK Curriculum challenges students to attain competency in the four knowledge peaks of humanities, natural sciences, social sciences and a professional field—empowering them to earn a major and three minors in four years. The College's close-knit, residential campus is located in Caldwell, where its proximity both to Boise and to the world-class outdoor activities of southwest Idaho's mountains and rivers offers unique opportunities for learning beyond the classroom.  For more information, visit www.collegeofidaho.edu.