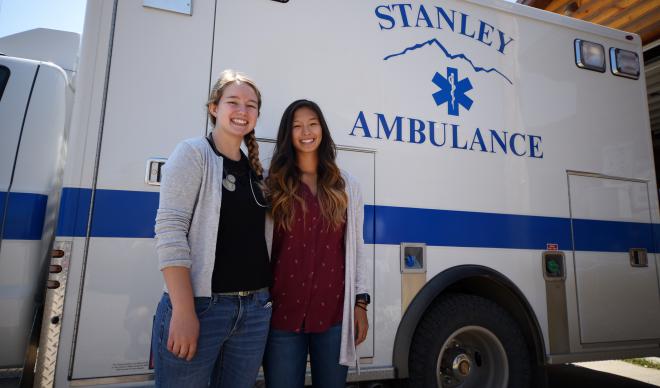 In 1975, Marie Osborn would ride into the Salmon River Emergency Clinic in Stanley, Idaho on the back of a snowmobile. Inspired to open the clinic three years earlier in 1972 to fill the need for medical services in outback Idaho, she became known to the population in Stanley for both her love of the outdoors and her commitment to providing 24/7 emergency care.
Starting with Marie's son, Dr. John Osborn '79, the clinic has played host to two interns from The College of Idaho each year for the past several decades – a legacy that has become one of the College's best known internship opportunities among students pursuing careers in the medical field. Under the supervision of the Salmon River Clinic's current physician assistant Amy Klingler, student interns spend their summer in Stanley getting a direct taste of rural medicine, helping to provide medical care to any and all who come through their doors.
"It's not just about the science here," said senior C of I biology major Isabela Lete, one of this summer's interns at the clinic. "If I've learned anything since starting this internship, it's that medicine is about humans first. It's not just about the cases and what you read in books — these are real people that we're treating, with real emotions."
Lete and recent C of I health sciences graduate Hailey Woods, another of the clinic's interns for the season, arrived in Stanley earlier in the summer to begin their internship, moving into the clinic's attached dormitories. Together, the two run the gamut of responsibilities at the clinic, from day-to-day activities like updating medical charts, answering phones, taking patient vitals and performing lab work analysis to participating in emergency events like search and rescue operations and joining the clinic's ambulance on major calls outside the clinic itself.
Some days are quiet at the clinic. During less busy hours, Lete said she flips through her study cards for the Medical College Admission Test (MCAT). However, due to the nature of the clinic and the amount of walk-ins that the clinic serves, sometimes the interns may provide care to more than 15 patients per day.
"The things we get to do here are things that I think we just wouldn't be able to experience if we were still in Boise," said Woods, who is currently applying to medical schools as she completes her internship in Stanley. "We do more than just shadow here – we're right in the middle of things doing whatever we can to help."
Woods originally planned to pursue a career in family medicine prior to joining the team at the Salmon River Clinic, following in the footsteps of her older sister Sydney, a fellow C of I alumna from 2016. However, her experiences at the clinic so far – from a five-mile hike toward Stanley Lake at night during a search-and-rescue operation to helping a dog remove a fishhook from its lips – have led to her considering new fields of focus in her future medical career, particularly emergency medicine.
"Going on ambulance calls really opened up my eyes to different kinds of medicine," Woods said. "At this internship, we can get as involved as we want with EMT and search-and-rescue. You become really involved with the community, and when you can see the gratitude on people's faces from doing all that, it's really rewarding. When you feel like you've actually affected someone's life for the better, it's a great feeling."
Lete, who is set to return to the clinic next summer as well following her final year at the C of I, said her work at the clinic has confirmed her passion for medicine, reinvigorating her interest in the field while also encouraging her to become more confident as she deals with patients, sometimes in high stress situations.
"I love medicine," Lete said. "I love my patients. I love giving back to them. I feel like helping them has made me stronger, braver…it's something I don't want to give up."
The internship is supported by the College through a stipend from a fund named for Marie Osborn, with additional support from alumnus Bob Sevy '70 and his wife, Annie Legg. Over the years, more than 50 C of I students have completed the internship, with many since having entered into successful medical careers, including Dr. Katie Ball and Dr. Jocele Skinner, both former C of I interns turned full-fledged doctors that Lete has shadowed.
"The fact that we're part of a long line of C of I students who have come through this and have found their calling, and who have given back to us on their own…it gives me hope that I can do the same someday," Lete said.
For more information about the Salmon River Clinic, visit www.salmonriverclinic.org.
The College of Idaho has a 127-year-old legacy of excellence. The C of I is known for its outstanding academic programs, winning athletics tradition and history of producing successful graduates, including seven Rhodes Scholars, three governors, and countless business leaders and innovators. Its distinctive PEAK Curriculum challenges students to attain competency in the four knowledge peaks of humanities, natural sciences, social sciences and a professional field—empowering them to earn a major and three minors in four years. The College's close-knit, residential campus is located in Caldwell, where its proximity both to Boise and to the world-class outdoor activities of southwest Idaho's mountains and rivers offers unique opportunities for learning beyond the classroom.  For more information, visit www.collegeofidaho.edu.