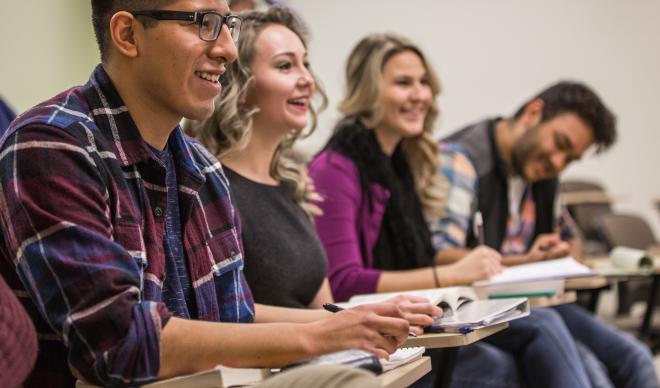 In a season full of renewed interest and national attention, The College of Idaho has made a major impression in the rankings of the 2019 U.S. News & World Report Best College Rankings, catapulting to No. 131 in its list of "Best National Liberal Arts Colleges" — the highest position the College has achieved on the prestigious annual ranking.
After previously being listed at No. 168 in the previous two years of the rankings, the C of I rose 37 places in this year's rankings to reach No. 131, one of the highest placement improvements among any institution in the U.S. News & World Report's rankings. The rankings are determined through a formula weighting data across 16 metrics of academic excellence, including academic outcomes, faculty and financial resources, peer assessments, student excellence, and alumni giving.
"Breaking into the top 150 of one of the most prestigious rankings in all of higher education is a distinction the College has long sought," said C of I Co-President Doug Brigham. "It is gratifying to see the consistent excellence pursued by our faculty, students, staff and coaches over many years is being recognized in this way."
Mark Heidrich, C of I's Associate Vice President of Institutional Effectiveness, said the significant leap the C of I made in the rankings could be attributed to a number of combined factors, including high scores in first-year student retention rates, graduation rates, class sizes, faculty-to-student ratios and average alumni giving rates. He said the consistency the College has maintained in relation to the way the rankings are weighted have allowed the C of I to stand out among the crowd.
"To see this much of an increase among these rankings is something unprecedented and unusual," Heidrich said. "It's not necessarily just one metric standing out as a reason, but rather our students outperforming expectations and seeing high results relative to our institutional peers."
The C of I's list of national accolades has grown over the last few weeks, including ranking as the No. 1 school in Idaho by the Wall Street Journal, No. 4 among northwest liberal arts colleges by Washington Monthly, and inclusion on College Raptor's list of "Hidden Gems in the U.S." A full list of recent awards and accolades the College has received may be found here. 
Heidrich said the C of I's record ranking is something to celebrate as a significant achievement and continue to aim toward for the future.
"These rankings are like a footrace, and everyone is trying to get to the finish line," Heidrich said. "We're all trying to do better for our students. I think it's good to take the wins where we can get them."
The College of Idaho has a 127-year-old legacy of excellence. The C of I is known for its outstanding academic programs, winning athletics tradition and history of producing successful graduates, including seven Rhodes Scholars, three governors, and countless business leaders and innovators. Its distinctive PEAK Curriculum challenges students to attain competency in the four knowledge peaks of humanities, natural sciences, social sciences and a professional field—empowering them to earn a major and three minors in four years. The College's close-knit, residential campus is located in Caldwell, where its proximity both to Boise and to the world-class outdoor activities of southwest Idaho's mountains and rivers offers unique opportunities for learning beyond the classroom.  For more information, visit www.collegeofidaho.edu.