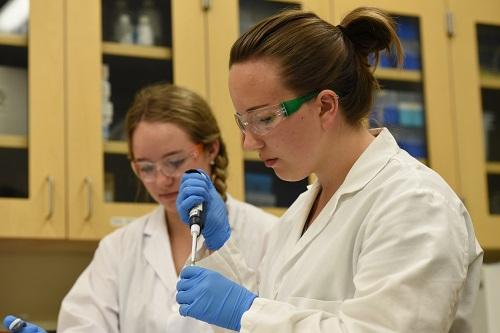 The College of Idaho continues to receive national recognition for its top-notch academics and superior sense of community with its inclusion in the 2018 U.S. News and Report's Best College Rankings.
The C of I ranked at No. 168 on the report's "Best National Liberal Arts Colleges" rankings, the same ranking the College earned on 2017's list. The rankings were determined by the U.S. News & World Report via a formula considering 15 areas related to academic excellence, including graduation rates, class sizes, and average ACT-SAT scores, among other important statistics.
Of the Idaho schools that were ranked in the report, C of I stands out as the best in several key areas, ranking ahead of its in-state peers in the categories of first-year student retention rates, graduation rates, average alumni giving rates, and high upper-percentile ACT-SAT scores.
"It is a great honor for The College of Idaho in a small state like Idaho to be ranked among the top 36% of all United States' national liberal arts and regional private colleges — colleges that extend a traditional liberal arts undergraduate curriculum for students," C of I Interim President Dr. Bob Hoover said. "It is a clear recognition of the quality of our students and the commitment of our professors." 
Over the last 12 months, the College has earned national accolades in several similar publications. The College was ranked No. 2 on Best College Review's 2017 list of the "Top 50 Best Small Colleges in the U.S." The Princeton Review also included the C of I in its 2018 edition of its "Best 382 Colleges," an honor only given to the top 15 percent of America's four-year colleges, while the 2018 "Fiske Guide to Colleges" included the C of I once again in its annual release.
The College of Idaho has a 125-year-old legacy of excellence. The C of I is known for its outstanding academic programs, winning athletics tradition and history of producing successful graduates, including seven Rhodes Scholars, three governors, four NFL players and countless business leaders and innovators. Its distinctive PEAK Curriculum challenges students to attain competency in the four knowledge peaks of humanities, natural sciences, social sciences and a professional field—empowering them to earn a major and three minors in four years. The College's close-knit, residential campus is located in Caldwell, where its proximity both to Boise and to the world-class outdoor activities of southwest Idaho's mountains and rivers offers unique opportunities for learning beyond the classroom.  For more information, visit www.collegeofidaho.edu.