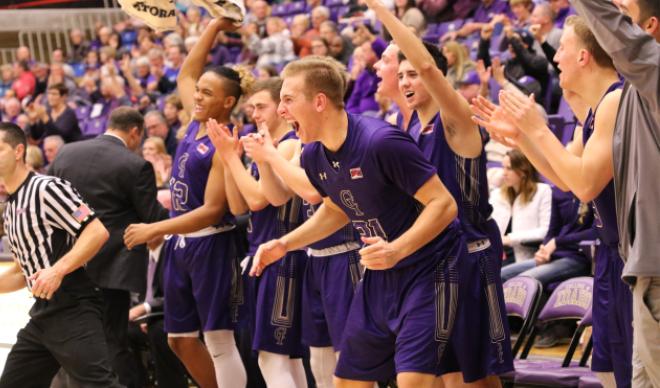 The College of Idaho's men's basketball team has been no stranger to success this season.
Reclaiming the Mayor's Cup from rivals Northwest Nazarene University? Check. Claiming the Cascade Collegiate Conference Regular-Season Championship and becoming the first ever CCC team to win 18 league games in a season? Check. Winning 17 of their last 18 games? Check. Punching their ticket to the NAIA Division II Men's Basketball Championships in Sioux Falls? Check.
What's next on the list for our nationally ranked No. 4 Yotes? Capturing the Cascade Conference Men's Basketball Tournament Championship. The Yotes will tip off against the No. 13 Warner Pacific University Knights at 8:05 p.m. this Tuesday, Feb. 27 in the J.A. Albertsons Activities Center for a shot at their third CCC Championship in five years — a home game that will be aired on the regional broadcast stage for the first time in the program's history.
Tuesday night's game will be broadcast on ROOT SPORTS Northwest, their first home game televised outside the Boise market and their fifth game overall. ROOT SPORTS reaches approximately 3.2 million households across five states, hosting more than 350 live events each year to be available in high definition. Fans can use the Channel Finder at rootsports.com to find the channel in their area on cable or satellite television, including Dish Network Channel 426, DirecTV Channel 687, and Cable One Channel 149 in the Treasure Valley. It will also be available on all digital platforms for ROOT SPORTS subscribers.
The game will also be called over the radio on ESPN Boise (99.1 FM) and on ESPNBoise.com by Mike Safford Jr.
However, the Yotes hope to see the seats in JAAC packed with purple, as head coach Scott Garson is asking for all of the C of I fans to wear purple to the championship game. Tickets for Tuesday's game are available now to the general public at yoteathletics.com. C of I faculty and staff may purchase tickets for reduced admission, and C of I students are admitted for free. Tickets will also be available at will-call in JAAC.
We hope to have as much of our YoteFam join us for Tuesday night's historic showdown!
The College of Idaho has a 127-year-old legacy of excellence. The C of I is known for its outstanding academic programs, winning athletics tradition and history of producing successful graduates, including seven Rhodes Scholars, three governors, four NFL players and countless business leaders and innovators. Its distinctive PEAK Curriculum challenges students to attain competency in the four knowledge peaks of humanities, natural sciences, social sciences and a professional field—empowering them to earn a major and three minors in four years. The College's close-knit, residential campus is located in Caldwell, where its proximity both to Boise and to the world-class outdoor activities of southwest Idaho's mountains and rivers offers unique opportunities for learning beyond the classroom.  For more information, visit www.collegeofidaho.edu.