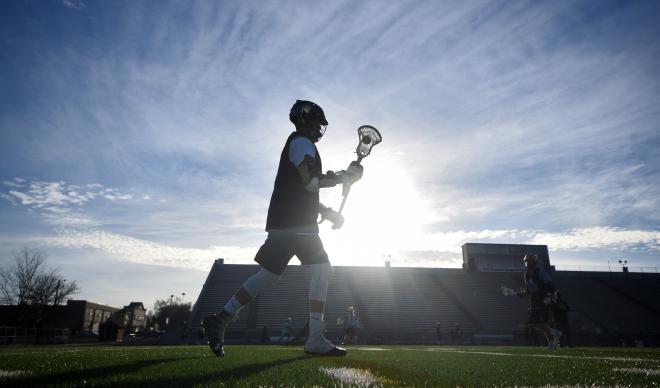 College of Idaho men's lacrosse head coach Matt Gier once took to the field as a player on the very first squad of the College's program, when it was first introduced as a club sport in 2004. In those days, Gier remembered the Yotes as underdogs, facing off against institutions with longer legacies in the sport.
Today, as the lacrosse program enters its first season as a varsity sport —one of only four varsity level men's lacrosse programs for small colleges west of the Rockies — the Yotes are underdogs no more. Since Gier took over as head coach in 2010, the Yotes have made four postseason appearances in the Men's Collegiate Lacrosse Association, three of which have come in the last three seasons. Last year, the Yotes posted a program record 12-1 season, and this year's squad has been nationally ranked at No. 15 in the MCLA and tabbed to win the 2018 Pacific Northwest Collegiate Lacrosse League Championship.
"Once upon a time, we were a team that everyone looked forward to playing," Gier said. "Now, we're a team no one wants to play. Everyone on our schedule knows that we won't be an easy win."
The College made the announcement to move men's lacrosse to varsity status last summer, making the team the College's 10th men's varsity sport. The move allows the program to give its student-athletes athletic-based aid and draw its budget from the athletic department instead of student fees. Its new status is also a significant draw for the team's recruitment efforts beyond scholarship opportunity thanks to being one of the rare varsity level programs for the sport within the Northwest.
"Young men coming out of high school will look at club teams, but the truth is that many want to play at a varsity program, and they get really excited about what we can offer," Gier said. "We're attracting a talented group of guys, and going to varsity makes us a really great choice for guys who want to play at that high level while staying local to the Idaho area."
National Signing Day on Feb. 7 showed the high level of player the program is attracting. Six Idaho student-athletes signed letters of intent to join the team next season, many of whom with some of the best records in the state for their respective positions. The team also received a commitment from junior attackman Jack Ryan of Reston, Virginia — the first player to commit from that state.
"Every kid dreams of playing a sport in college, and I am extremely humbled to have this amazing opportunity," stated Trevor Manu, a two-sport athlete from Rocky Mountain High School who ranked within the top ten for goals scored in Idaho in 2017. "I'm beyond excited for what's in store for the future."
That future looks bright for the team this season as they prepare for their opener against Gonzaga University on Feb. 10. Senior midfielder and human performance major Cory Brady, who transitioned from the football team to join lacrosse during its record setting 2017 season, said the team knows what it's capable of achieving this year and is approaching its schedule confidently with a drive to win the championship that barely escaped their grasp last year.
"When you come into a season like this one where you're expected to perform well, it's tough to not get complacent," Brady said. "But we're going to keep playing like we're the underdogs. I know that we'll do the best that we can to give this team the best chance at winning, no matter who we're up against or how we're expected to do."
While this season is chief on the mind of Gier, he said the move into varsity is only the beginning of the program's growth. He said the program hopes to grow to the point of adding a women's team soon, while he sees the men's team continuing to earn national attention.
"There's no reason to think we can't be a top-five national team," Gier said. "We're a talented group with strong senior leadership at its core and great new players. Every team we play will bring their best, but we're not going to make it easy for them."
The College of Idaho has a 125-year-old legacy of excellence. The C of I is known for its outstanding academic programs, winning athletics tradition and history of producing successful graduates, including seven Rhodes Scholars, three governors, four NFL players and countless business leaders and innovators. Its distinctive PEAK Curriculum challenges students to attain competency in the four knowledge peaks of humanities, natural sciences, social sciences and a professional field—empowering them to earn a major and three minors in four years. The College's close-knit, residential campus is located in Caldwell, where its proximity both to Boise and to the world-class outdoor activities of southwest Idaho's mountains and rivers offers unique opportunities for learning beyond the classroom.  For more information, visit www.collegeofidaho.edu.