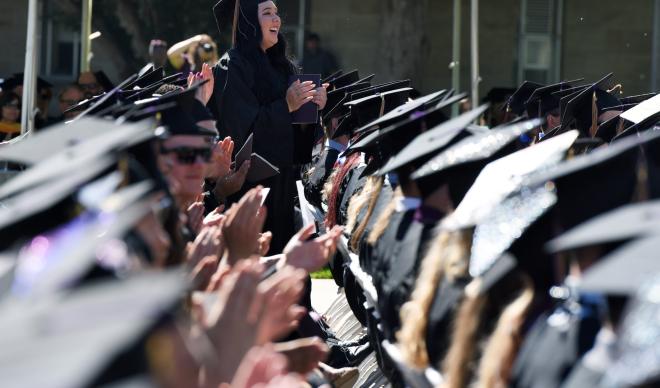 The College of Idaho will honor the graduating Class of 2018 during its annual Commencement ceremony, which will begin at 10 a.m. on Saturday, May 19 in the Morrison Quadrangle on the C of I's campus.
Over 200 students will cross the steps of Boone Hall to receive their diplomas at Commencement, which will feature a keynote address by Dr. Forest Rohwer '91, a professor of biology at San Diego State University and one of the world's leading marine microbial ecologists. A pioneer in the use of metagenomics and a specialist in the world's coral reefs, Dr. Rohwer's work since his time at the College has received numerous awards, including the International Society of Microbial Ecology Young Investigators Award and inclusion in a list of "The World's Most Influential Scientific Minds" by Thomson Reuters.
An Idaho native, Rohwer said during a campus visit earlier this year that his experiences as an undergraduate at the College played a significant role in shaping his career path. As a Gipson Scholar at the C of I, Rohwer studied biology, chemistry and history, remarking that the combination of sciences through the lens of history laid the foundation for his research work. In addition, a class trip he went on to Australia during his time at C of I served as one of the main catalysts in his research in coral reefs.
"The C of I experience from the point of view of really knowing my subjects very well was essential," Rohwer stated. "What I learned here are the core things that I use every day, and the College does very well at providing these practical experiences."
Joining Rohwer as speakers at this year's Commencement are C of I's co-presidents, Jim Everett and Doug Brigham, as well as this year's student speaker, Natasha Dacic, who was selected by her peers to represent the senior class at the ceremony. Dacic, a double major in environmental studies and mathematics-physics and the first member of her family to attend college, has received numerous accolades in her time as a student, including the College's Integrity, Leadership & Service Award.
"If there is one thing I know, it's that because of C of I, I have gained the skills and strengths in order to make an impact in this world," Dacic said in an address to donors earlier this year at the C of I Scholarship Gala. "I want to sincerely thank each and every one of you for helping put students in college and for positively impacting our lives, whether you know it or not."
The public is also invited to attend the College's annual Baccalaureate Service at 8 p.m. on Friday, May 18 in the Jewett Auditorium, a contemporary and non-denominational chapel service featuring music and inspirational messages for the year's graduates.
Class reunions, Board of Trustees meetings and other campus events are also scheduled in the week leading up to Commencement. The classes of 1968 and 2008 are encouraged to RSVP for their reunion activities by May 10 and May 13, respectively. Full schedules for the reunion events may be found at https://alumni.collegeofidaho.edu/event/1968-reunion and https://alumni.collegeofidaho.edu/event/2008-reunion.
For full details, visit www.collegeofidaho.edu/commencement.
The College of Idaho has a 127-year-old legacy of excellence. The C of I is known for its outstanding academic programs, winning athletics tradition and history of producing successful graduates, including seven Rhodes Scholars, three governors and countless business leaders and innovators. Its distinctive PEAK Curriculum challenges students to attain competency in the four knowledge peaks of humanities, natural sciences, social sciences and a professional field—empowering them to earn a major and three minors in four years. The College's close-knit, residential campus is located in Caldwell, where its proximity both to Boise and to the world-class outdoor activities of southwest Idaho's mountains and rivers offers unique opportunities for learning beyond the classroom.  For more information, visit www.collegeofidaho.edu.