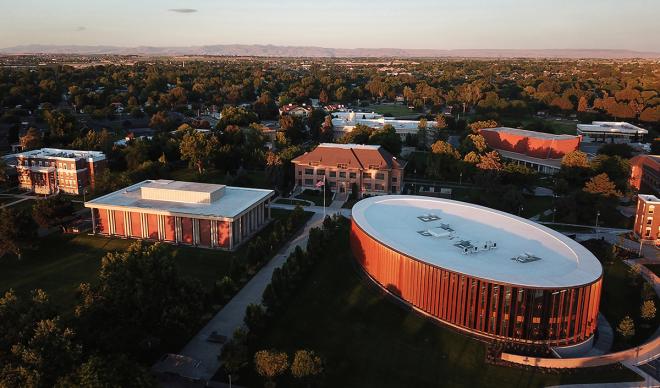 The College of Idaho has once again received recognition as the top school in the state of Idaho by the Wall Street Journal, ranking as the number one school in Idaho and among the Top 400 four-year institutions nationally in the 2019 Wall Street Journal/Times Higher Education U.S. College Rankings.
The C of I climbed 18 spots to No. 383 on the 2019 national list, where it is the only school in the state of Idaho to appear within the Top 500 schools. Within the West region, the C of I was ranked at No. 67. The rankings were determined through data covering 15 individual performance metrics grouped under pillars of resources, engagement, academic outcomes and learning environment.
"We are thrilled with our continued rise in national rankings," said C of I Co-President Jim Everett. "This is a tribute to our world-class faculty, coaches and staff."
Among the College's top metrics included high scores for its low faculty to student ratio and positive scores across the board for student engagement, student recommendations and student interaction.
The C of I is no stranger to national attention, having earned several distinctions and accolades within the previous month alone, including a No. 4 ranking among northwest liberal arts colleges by Washington Monthly and inclusion on College Raptor's list of "Hidden Gems in the U.S." A full list of recent awards and accolades the College has received may be found here.
The full list may be viewed now at www.wsj.com with a subscription to the Wall Street Journal. A free open access version of the full U.S. College Rankings table will be freely available on www.timeshighereducation.com on Sept. 19.
The College of Idaho has a 127-year-old legacy of excellence. The C of I is known for its outstanding academic programs, winning athletics tradition and history of producing successful graduates, including seven Rhodes Scholars, three governors, and countless business leaders and innovators. Its distinctive PEAK Curriculum challenges students to attain competency in the four knowledge peaks of humanities, natural sciences, social sciences and a professional field—empowering them to earn a major and three minors in four years. The College's close-knit, residential campus is located in Caldwell, where its proximity both to Boise and to the world-class outdoor activities of southwest Idaho's mountains and rivers offers unique opportunities for learning beyond the classroom.  For more information, visit www.collegeofidaho.edu.