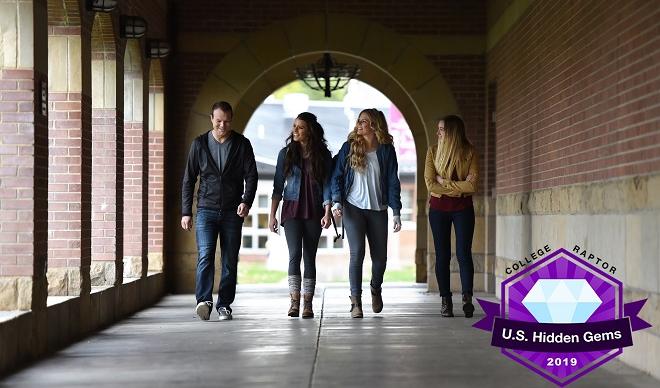 The College of Idaho continues to pile up accolades, this time receiving new honors from Washington Monthly, College Consensus and College Raptor's most recent respective college rankings, including within the top four liberal arts colleges in the northwest in Washington Monthly's 2018 College Rankings and "Hidden Gem" designations for 2019 by CollegeRaptor.com.
Washington Monthly's 2018 College Guide and Rankings, which ranked the top 228 liberal arts colleges in the country based on statistics involving social mobility, research contributions and post-graduation service, placed the College of Idaho at No. 112 overall and at No. 4 among liberal arts colleges based in the northwest, ahead of Whitman College, Lewis & Clark College and the University of Puget Sound.
College Raptor, a website offering side-by-side comparisons of colleges and universities around the United States, placed the C of I on two of its "Hidden Gem" lists for its 2019 rankings, including its general "Hidden Gems in the U.S." and its regional "Hidden Gems in the Northwest" lists. C of I stood alone as Idaho's Hidden Gem.
"At College Raptor, we help students find colleges that fit them financially, socially, and academically – which means looking at more than just big name universities," stated College Raptor regarding its U.S. Hidden Gem list, which only considered schools with fewer than 5,000 applications per year and fewer than 7,000 undergraduate students enrolled. "That's why we're drawing attention to smaller colleges across the nation which deserve consideration, but may be initially overlooked because they aren't necessarily household names."
College Consensus, which ranks colleges based on a combination of ranking scores from outside publications and reviews from students around the country, ranked the C of I at No. 2 in Idaho, offering praise for its low student-to-faculty ratio and above-average four-year retention rate, as well as the College's distinctive PEAK curriculum.
"The PEAK curriculum envisions academic excellence as four distinct "peaks"…developing a strong job-market brand and building a significant professional advantage over students with unfocused, scattered credits," reads the C of I's profile on College Consensus' webpage. "This kind of dedicated, focused work is only possible in the small liberal arts atmosphere."
The C of I also once again appeared on Forbes' "America's Top Colleges" list, ranking at No. 483 overall. The College has been featured as the top college in the state of Idaho in several annual editions, including 2017. C of I ranks as Idaho's No. 2 college in this year's rankings, ranking ahead of public competitors Boise State University and the University of Idaho.
"We are proud to have The College of Idaho receive these accolades," said C of I Co-President Doug Brigham. "It further recognizes the great faculty, staff, and students we have and is a testament to the value of a face-to-face, residential environment at The College of Idaho."
The College of Idaho has a 127-year-old legacy of excellence. The C of I is known for its outstanding academic programs, winning athletics tradition and history of producing successful graduates, including seven Rhodes Scholars, three governors, and countless business leaders and innovators. Its distinctive PEAK Curriculum challenges students to attain competency in the four knowledge peaks of humanities, natural sciences, social sciences and a professional field—empowering them to earn a major and three minors in four years. The College's close-knit, residential campus is located in Caldwell, where its proximity both to Boise and to the world-class outdoor activities of southwest Idaho's mountains and rivers offers unique opportunities for learning beyond the classroom.  For more information, visit www.collegeofidaho.edu.