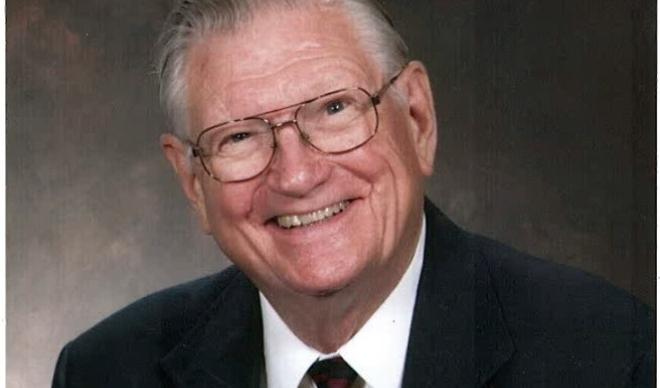 The College of Idaho sends its condolences to the friends and family of Professor Emeritus Wallace "Wally" G. Lonergan, a C of I graduate and later longtime member of the C of I's business faculty who passed away in Caldwell, Idaho from natural causes on Monday, Aug. 27, 2018 at the age of 90.
"Wally was a great inspiration for students and faculty alike," said current C of I Business and Accounting Chair Dr. Marilyn Melchiorre. "I frequently have alumni tell me about what a positive impact Wally had on their lives while they were students at the College."
Born in Potlatch, Idaho in 1928 — a small community of under 1,000 people just six miles east of the Washington border— Lonergan attended The College of Idaho during his undergraduate years, graduating in 1950 with a degree in political science. After a stint in the United States Army from 1950-53 to serve during the Korean War (reaching the rank of first lieutenant), Lonergan returned to academia to earn his MBA in 1955 and his Ph.D in 1960, both at the University of Chicago and both in human resources and industrial relations.
Lonergan remained at the University of Chicago as an instructor and later full professor following his graduation through 1985, where he also directed the Industrial Relations-Human Resources Research Center. During his time in Chicago, Lonergan served as a regular business consultant for private, public and volunteer organizations on a wide range of strategic planning and management development programs.
Lonergan spent some of his years abroad as a visiting professor at both Rikkyo University in Tokyo, Japan and a visiting fellow at Merton College at Oxford University before returning to his C of I roots in 1987, officially joining the business faculty as a professor of business management and economics.
Current C of I co-president Doug Brigham served on the search committee for Lonergan's position during his senior year at the College, recalling Lonergan as "a gentle giant."
"Almost immediately, I considered him a mentor and was fortunate enough to stay in touch over the years, watching his unwavering passion for both The College of Idaho and for the success of our students," Brigham recalled. "He will be missed."
Lonergan remained a member of the C of I business faculty for over a quarter of a century, where he helped to establish the C of I's leadership program and the Caldwell Chamber of Commerce's Leadership Caldwell program before retiring from teaching in 2013. When Melchiorre joined the faculty, her office was right next to Lonergan's, where she would often visit and share laughs between classes.
"Wally helped me significantly as a new faculty member in the Business and Accounting Department," Melchiorre said. "He had a wonderful, positive attitude and shared words of encouragement to assist me in navigating life as a new faculty member. He had so much knowledge about College of Idaho history, and I always enjoyed hearing his stories."
Beyond the C of I, Lonergan served the Caldwell community as a member of the Caldwell Rotary Club and priest at St. David's Episcopal Church. He co-founded the Caldwell Diaper Bank (now a satellite of the Idaho Diaper Bank) alongside his wife Luise Lonergan and Charles McHugh, distributing 20,000 diapers within the first 10 months of its operation starting from only $5,000 in initial grant funding.
Lonergan remained deeply involved with the C of I as an alumnus, serving as a member of the College's National Alumni Board and as president of the Half-Century Society. He received the College's Half Century Life Achievement Award in 2000 and the Alumni Service Award in 2013.
Funeral services will be under the direction of Dakan Funeral Chapel in Caldwell.
The College of Idaho has a 127-year-old legacy of excellence. The C of I is known for its outstanding academic programs, winning athletics tradition and history of producing successful graduates, including seven Rhodes Scholars, three governors, and countless business leaders and innovators. Its distinctive PEAK Curriculum challenges students to attain competency in the four knowledge peaks of humanities, natural sciences, social sciences and a professional field—empowering them to earn a major and three minors in four years. The College's close-knit, residential campus is located in Caldwell, where its proximity both to Boise and to the world-class outdoor activities of southwest Idaho's mountains and rivers offers unique opportunities for learning beyond the classroom.  For more information, visit www.collegeofidaho.edu.