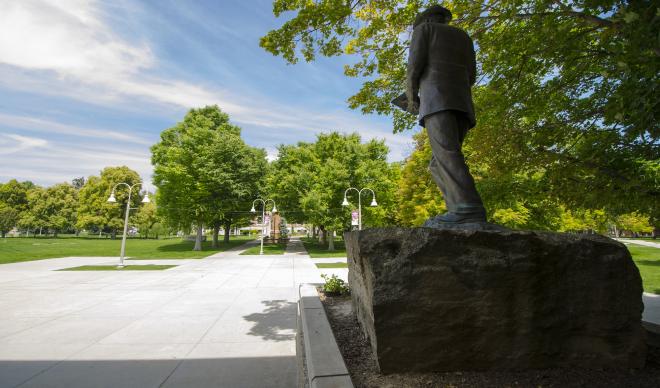 The College of Idaho spent roughly two hours on lockdown Monday after a student reported being threatened with a gun by two individuals in a campus parking lot adjacent to the J.A. Albertson Activities Center.
Interim President Bob Hoover released this statement, describing the event and the steps taken by the College to ensure the safety of those on campus:
"Today shortly after 12:30 p.m., a College of Idaho student encountered two individuals described as either in their late teens or early twenties who pointed a gun at her and asked her to leave her vehicle. In response, she remained in her vehicle and fled the scene.  At that point, the two individuals ran away from campus.  Our student immediately called 911 and then contacted our campus safety department. 
Messages were sent immediately from campus safety about the incident which I received while I was off campus. Our Vice President for Student Affairs Paul Bennion followed procedures put in place from our emergency plan, which include a lockdown and campus siren to initiate emergency procedures.  Also, once alerted, our communication department immediately announced the lockdown on our web site and social media. Shortly thereafter, we released lockdown information to the print and television media. Our primary goal in all such situations is the safety of our students, faculty and staff. 
The Caldwell Police were on campus immediately and conducted patrols off-campus for the possible perpetrators. The police interviewed one of the witnesses as well as the victim. No suspects were found.
After two hours, with approval from the Caldwell Police Department, the lockdown was lifted. Counseling resources have been made available to our students, and the collaboration between our campus safety people and the Caldwell Police continues. 
The College has been rehearsing and updating our emergency procedures for over a decade and I am pleased at the moment, or until I learn differently, how well the emergency procedures were followed and calm was restored on campus.
Incidentally, there was a civil rights forum scheduled this afternoon on campus regarding gun rights. Nothing we have learned shows any connection between the incident and the scheduled forum, and the incident took place on the opposite end of campus from where the forum was scheduled. 
Classes were not being held due to the MLK holiday.
The College will provide updates periodically via the College's website.  
Interim President
Bob Hoover"
The College's website is www.collegeofidaho.edu.
If you have additional questions, please contact Director of Marketing and Communications, Joe Hughes, at [email protected] or 208-459-5219.
The College of Idaho has a 125-year-old legacy of excellence. The C of I is known for its outstanding academic programs, winning athletics tradition and history of producing successful graduates, including seven Rhodes Scholars, three governors, four NFL players and countless business leaders and innovators. Its distinctive PEAK Curriculum challenges students to attain competency in the four knowledge peaks of humanities, natural sciences, social sciences and a professional field—empowering them to earn a major and three minors in four years. The College's close-knit, residential campus is located in Caldwell, where its proximity both to Boise and to the world-class outdoor activities of southwest Idaho's mountains and rivers offers unique opportunities for learning beyond the classroom.  For more information, visit www.collegeofidaho.edu.