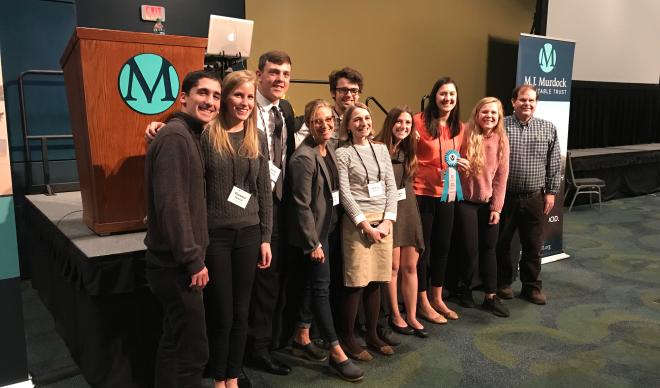 From environmental science to biology, The College of Idaho presented a wide range of student research on Nov. 9-10 at the 26th Annual Murdock College Science Research Conference in Spokane, Washington, with one student coming away with an award for her summer research at the event.
Eight students from the C of I presented their research at the event, which featured 34 oral presentations, 264 poster presentations and over 400 people in attendance. Each student's research received support from the M.J. Murdock Charitable Trust, with the event itself held for each student to share their findings in their respective natural science fields.
Senior environmental studies/mathematics-physics double major Natasha Dacic received the Murdock Poster Prize in Environmental Science/Geology for her research she completed as an intern with the NASA Student Airborne Research Program, which estimated potential ozone formation from agricultural crop, dairy, and oil and natural gas emissions in the San Joaquin Valley, California.
It was not Dacic's first time receiving an award at the Murdock conference, which comes with a cash award and a gift for the faculty research advisor. At last year's event, her research poster on how wildfires play a role in shaping salmon spawning habitat won the same award, making Dacic a back-to-back winner in the category.
"It feels nice to be recognized for something I put a lot of work and hours into, but even prior to the conference I still felt accomplished for the research that I did because of the effort that I put into it," Dacic said.
Other students presenting at the conference included Camas Curran, Leonardo Trujillo, Sarah Schoultz, Megan Phelps, Florence Wavreil, Jacob Bowman and Tyler Truksa. Truksa gave an oral presentation regarding his research with Bowman in the use of Structure from Motion technology to quantify sediment mobilization within streams in the Idaho Bathalith region — research he and Bowman presented at last month's Geological Society of America annual meeting in Seattle.
"It's a lot less intimidating presenting to other undergraduates than presenting to fully trained geologists," Truksa said. "It feels like a more even playing field."
Dacic said the two day conference was a great opportunity to engage with other science students with a shared enthusiasm for their research, praising the positive environment for all of the presenters involved.
"I loved sharing my energy about science research with students who felt the exact same way," Dacic said. "I think it is a huge accomplishment for everyone who presented their research at the conference because students get to share their expertise with others, build connections, and gain professional experience."
Dr. Jaime Goode, C of I geoscience professor, was one of three C of I faculty members also in attendance at the conference, along with physics associate professor Dr. Katie Devine and biology assistant professor Dr. Thomas Pirtle. C of I Dean of Faculty and Vice President for Academic Affairs David Douglass was also in attendance to support C of I's student researchers.
"All of our students did great work and strongly represented The College of Idaho," Goode said.
The College of Idaho has a 125-year-old legacy of excellence. The C of I is known for its outstanding academic programs, winning athletics tradition and history of producing successful graduates, including seven Rhodes Scholars, three governors, four NFL players and countless business leaders and innovators. Its distinctive PEAK Curriculum challenges students to attain competency in the four knowledge peaks of humanities, natural sciences, social sciences and a professional field—empowering them to earn a major and three minors in four years. The College's close-knit, residential campus is located in Caldwell, where its proximity both to Boise and to the world-class outdoor activities of southwest Idaho's mountains and rivers offers unique opportunities for learning beyond the classroom.  For more information, visit www.collegeofidaho.edu.