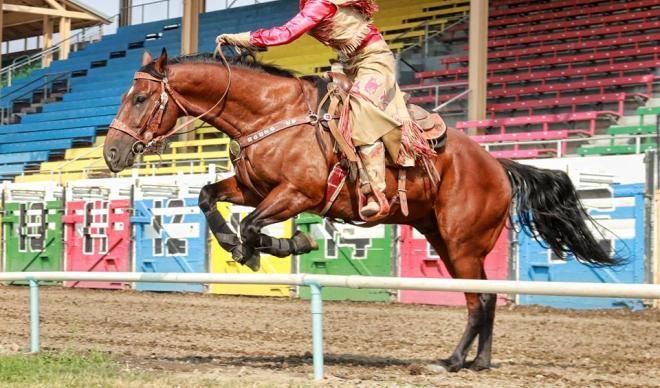 Just like any modern monarch, rodeo royalty is deep in the blood of College of Idaho senior Betsy West. In the 107 years since the first ever Pendleton Round-Up in Oregon, three generations of West's family have been representatives on the rodeo's court, including her great-grandmother in 1934 and 1935, her mother in 1989, and her sister in 2014.
But West has earned an honor no other woman in her family has achieved at the long-running rodeo. On Sept. 12-15, West will ride confidently into the 108th Annual Pendleton Round-Up as its Queen, realizing a childhood dream in the process.
"I've been involved with the Round-Up pretty much my whole life, just doing whatever I can," West said. "It's kind of a tradition in my family. Just the fact that the rodeo thought I would be the best person for the job is really exciting, and a great honor."
A native of Athena, Oregon — a small community just outside of Pendleton with a population of under 1,500 people — West grew up on her family's cattle ranch with a lasting love for the horses her family raised. As a toddler, she would ride on her parents' saddles, later learning to ride for herself as she grew older.
To West, participating in rodeo events was a great way to blend her love for horseback riding and the excitement of competition.
"I love the thrill of it," West said. "Rodeo is a really cool sport because it's something very unique to this country.  It's a celebration of the cowboy lifestyle that you just can't find everywhere. When you're competing in rodeo, you get to show the people watching where we've all come from."
The Pendleton Round-Up is the largest four-day rodeo in the country with the fifth largest winning purse for its competitors. The country's first-ever rodeo queen tradition started in Pendleton in 1910, and the annual court makes several appearances throughout the year to represent the Pendleton community in parades, service events and other rodeos, including the world famous Calgary Stampede in Alberta, Canada.
Every year at the start of the Pendleton Round-Up, the Queen and her court of four princesses open the event with a grand entry into the Round-Up's unique grass arena, riding their horses from the arena's north end and jumping the fence along both sides of the surrounding dirt track, ending in front of the arena's main grandstand before doing a half-mile run around the track and out the gate. West had admired the entrance from her first time attending the rodeo as a young girl — and this year, she will get to lead it.
"This is the event we work for all year," West said. "It's one of the most exciting parts of what we do."
Unlike many rodeo queen positions around the country, which utilize elements of competition and pageantry in addition to horsemanship skills, West said the Pendleton Round-Up considers the position more like a job application. Each Queen must apply for the position after having served at least one year on the court as a princess. Following the application, the potential queens are invited for personal interviews with the rodeo's board of directors, where they are also tested on their horsemanship.
The selection process for this year's court fell in the middle of West's classes at the College, where she is a health sciences major with minors in Spanish, sociology and human services.
"I was really surprised at how my professors were all so helpful and supportive of what I was trying to do," West said. "I had to take a whole week off, but they all helped accommodate me so I could do both my school work and my rodeo work. I'm not sure I could have had that support at any other school."
While West is happy to become Queen, she said the most exciting part of her new role is in playing a hands-on role in representing her community and showing people the value of her community and her rodeo. She will participate in several public events during her reign, enjoying her last year on the court before applying to nursing schools around the country.
"I love rodeo," West said. "It's the sport that I grew up in and it's a part of who I am, and the Round-Up is the history of my family heritage in Pendleton. I'm honored to get to be one of the people that's in charge of getting to share it with the rest of the world."
For more information about the Pendleton Round-Up, visit www.pendletonroundup.com.
The College of Idaho has a 125-year-old legacy of excellence. The C of I is known for its outstanding academic programs, winning athletics tradition and history of producing successful graduates, including seven Rhodes Scholars, three governors, four NFL players and countless business leaders and innovators. Its distinctive PEAK Curriculum challenges students to attain competency in the four knowledge peaks of humanities, natural sciences, social sciences and a professional field—empowering them to earn a major and three minors in four years. The College's close-knit, residential campus is located in Caldwell, where its proximity both to Boise and to the world-class outdoor activities of southwest Idaho's mountains and rivers offers unique opportunities for learning beyond the classroom.  For more information, visit www.collegeofidaho.edu.