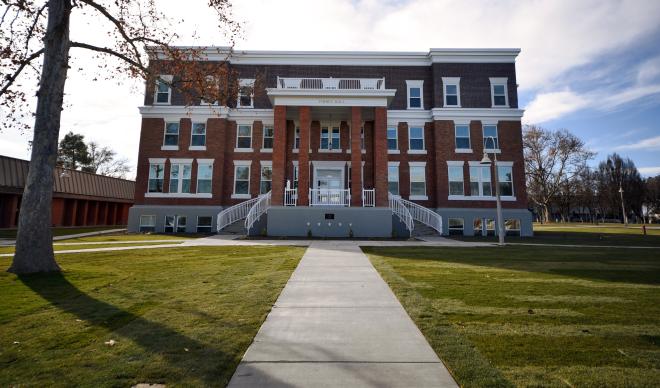 Finney Hall and Voorhees Hall each have rich and storied histories on the College of Idaho's campus. Built in 1910 and 1912 respectively, the dormitories have served as a home for thousands of students over the last century.
Today, both halls are enjoying a renaissance on campus following their renovations, each totaling around $4 million for updates to each building. And while students moved into the updated Voorhees Hall during the 2017 Spring Semester, it wasn't until Winter Term 2018 that students had the opportunity to become the first group to dwell inside the new Finney.
"It's a bit surreal," said C of I senior Natasha Dacic, Finney Hall's student hall director. "It still feels a bit like a hotel. It's a building that still has a lot of character, though, and it's neat to think that this building might be around for another 100 years."
Historically an all-women's residence Hall, Finney Hall is no stranger to updates, having also been used in the past as a dining hall, chemistry lab and student clinic. The building added a third floor in 1960, and officially became co-ed by floor in 2003. However, the 20,000 square-foot renovation designed by Erstad Architects has helped to shift the building toward a suite-style residence hall, featuring 57 single rooms for undergraduate students.
Finney Hall's new layout separates the rooms into suites, each of which house their own private bathrooms, kitchenettes, and shared living room areas between the bedrooms. The suites come in two bedroom and three bedroom varieties, providing more space to residents than the previous design.
Finney's shared spaces have also undergone renovations, including a new elevator for ADA compliance, on-site laundry facilities, and updated furniture and appliances. One thing that didn't change in the remodel, however, is the Finney Hall piano which once graced the building's opening parlor. Dating back to the early 20th century, the piano now resides in the basement living area, where it can still be played by its residents.
Students were able to move into Finney Hall this January at the start of the 2018 Winter Term, after previously staying in Anderson Hall as renovators were completing construction through the summer and fall of 2017. Residence Life Area Coordinator Michelle Cain said the move has been worth the wait for the students now living in Finney.
"It's been a long time coming," she said. "We're all happy and relieved to see the results."
On the other side of campus, students have continued settling into the updated Voorhees Hall, also designed by Erstad Architects. Like Finney, Voorhees' 15,000 square-foot renovation equipped the building with a new elevator, updated furniture, new study areas and renovated stairwells.
Some of the building's original flooring remains on the first floor as a tribute to the building's past, but the renovation has served to give a new character to the former all-men's dorm, which now can house up to 75 residents.
"One of my favorite parts about this building is how students come over and hang out," said C of I junior Daniel Hernandez. "It's a place where people can really enjoy themselves."
With the completion of both renovation projects, as well as the completion of the Cruzen-Murray Library, the College can now begin to contemplate future large scale projects. Richard Erne, C of I's vice president for finance and administration, said in the Fall 2017 edition of Quest these projects may include an interior remodel of the N.L. Terteling Library, remodels of Anderson Hall and South Simplot Hall, and updates to Jewett Auditorium, although no decision has been finalized.
For more information about C of I's dormitory buildings, and to see video tours of both Finney and Voorhees, visit https://www.collegeofidaho.edu/student-life/residence-life.
The College of Idaho has a 125-year-old legacy of excellence. The C of I is known for its outstanding academic programs, winning athletics tradition and history of producing successful graduates, including seven Rhodes Scholars, three governors, four NFL players and countless business leaders and innovators. Its distinctive PEAK Curriculum challenges students to attain competency in the four knowledge peaks of humanities, natural sciences, social sciences and a professional field—empowering them to earn a major and three minors in four years. The College's close-knit, residential campus is located in Caldwell, where its proximity both to Boise and to the world-class outdoor activities of southwest Idaho's mountains and rivers offers unique opportunities for learning beyond the classroom.  For more information, visit www.collegeofidaho.edu.