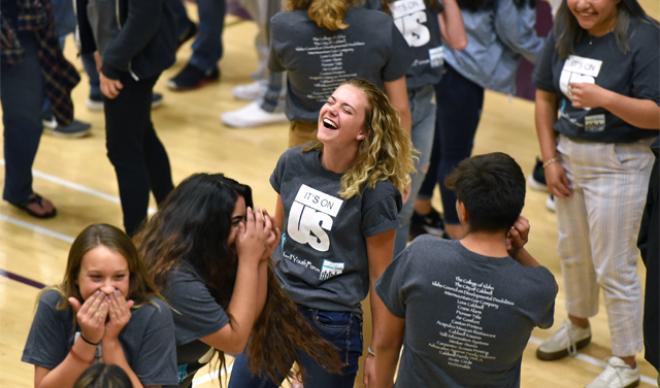 Undergoing their second full year of being co-presidents, Jim Everett and Doug Brigham have promoted a unified message at The College of Idaho—making the circle bigger. To the College, inclusivity and acceptance is an important part of the culture it strives to achieve on campus as well as within the community.
One event that strives for this goal is one that was held on the College's campus today, the annual Caldwell Youth Forum.
About six years ago, Ron Bonneau, the school's ski coach, worked with the local government and school districts to create the annual forum which focuses on anti-bullying measures and encourages kids to look out for one another.
"We're all part of this entity, this being. One of the things that the mayor was upfront about was helping and assisting students and children alike is how do we get them to look beyond themselves and how they contribute back to the community," Bonneau said.
The Caldwell Youth Forum has created within itself a program called "It's On Us" which encourages students to speak up for one another.
Around 70 students attended from schools such as Caldwell High, Vallivue, Ridgevue, Canyon Springs, and Elevate, the latter having opened just three weeks ago, attend the Forum. Since the beginning of the program, some of these schools have begun their own forums—Vallivue hosts its own "It's On Us" forum annually, and Ridgevue has started a "random acts of kindness," or "ractivist" club.
Idaho State Superintendent of Schools Sherri Ybarra attended the Forum this year, demonstrating the growth of the event since its inception.
On top of the Caldwell Youth Forum's usual anti-bullying programs, this year there's a specific focus on the realities of sexual assault within school districts. A guest speaker was scheduled to talk about her own personal experiences to prompt those attending the forum to discuss ways that Caldwell, as a community and as individuals, can step in and help prevent assault and give voice to victims of it.
The College and the city of Caldwell are working together with a goal of shaping the culture one step at a time, which Bonneau summed up: "If we can change a little corner, if we can reach one student, it's more than what he had before."
The College of Idaho has a 128-year-old legacy of excellence. The College is known for its outstanding academic programs, winning athletics tradition and history of producing successful graduates, including seven Rhodes Scholars, three governors, and countless business leaders and innovators. Its distinctive PEAK Curriculum challenges students to attain competency in the four knowledge peaks of humanities, natural sciences, social sciences and a professional field—empowering them to earn a major and three minors in four years. The College's close-knit, residential campus is located in Caldwell, where its proximity both to Boise and to the world-class outdoor activities of southwest Idaho's mountains and rivers offers unique opportunities for learning beyond the classroom.  For more information, visit www.collegeofidaho.edu. 
By Riley Nielsen, College of Idaho senior student and Marketing and Communications intern