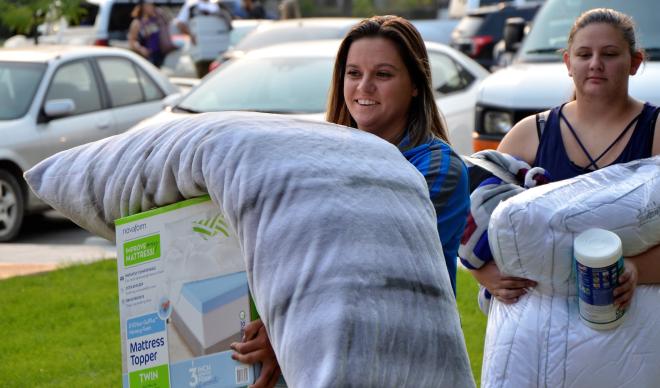 Tanner Van Tassell of Bishop, California had a choice to make as he approached the time to commit to a college — would he stay in his native state, or would he pursue his education outside the state?
In the end, part of what convinced the incoming freshman to come to The College of Idaho was continuing the legacy of his parents, Randy and Chris Van Tassell, who attended the College together in the late 1960s — meeting in Hayman Hall, the very dormitory they were now helping to move their son into on Friday, Aug. 24.
"Times have definitely changed," Chris joked, remembering the days when Hayman was known only as "New Dorm" and when each of the floors were strictly divided by gender and enforced with a curfew. "It's surreal to come back, but exciting."
Randy said as Tanner was making his choice, he and Chris each shared fond memories of their times as undergraduates, including the positivity of the campus community.
"The number of students compared to the faculty here is a great thing for education," Randy told his son. "This is the kind of education that can prepare you for the rest of your life."
While Tanner himself said he was excited to carry on his parents' legacy at the campus, he clarified that the choice was not only about continuing his parents' story, but also about beginning his own as he prepares to explore studies in business.
"I'm ready for a new phase of my life," Tanner said. "I want to see what's out there for me and I want to enjoy some new experiences."
As Tanner was unpacking into his new room in Hayman Hall, Reylene Cortes and Hannah McNerney were settling into their new space at Voorhees Hall, right next door to Hayman. Already, the new roommates had been able to find plenty of common ground — both were set to be pitchers for the C of I softball team, both planned to study biology, and they both claimed to be fans of country music.
For Cortes, coming to the C of I was appealing as someone who had grown up in Idaho, particularly impressed by the College's biology program.
"I like science, and I know I want to be a forensic pathologist, so I knew I would want to come here," Cortes explained. "I'm really excited to get started."
McNerney, a native of Oregon, had been encouraged to seek out the College by a fellow softball teammate who had been looking at the school. She said from the moment she stepped onto C of I's campus that she could see herself happy in Caldwell.
"When I thought about college, I always thought about the campuses, and how there would always be tall trees, green grass, nice buildings," McNerney said. "C of I fits that campus in my head exactly how I imagined it."
Across the campus at Anderson Hall, Stephen Campbell of Apple Valley, Utah had just settled into his new room — already contemplating where in the space he would be able to set up his fridge.
"I couldn't leave home without it," Campbell said. "It was high up on my list."
Campbell, who will be part of the Yotes' Track & Field program, said one of the things that had stood out to him most as he arrived on campus was how immediately friendly the College staff and the Anderson Resident Assistants had been so far.
"I know I'm going to really like this community," Campbell said. "Everyone seems really chill. To have so many people here to greet us and let us feel welcome means a lot."
Beyond his excitement for the track season, Campbell said he's looking most forward to jumping immediately into his classes. An aspiring physical therapist, Campbell said one of the most appealing parts of coming to C of I was the ability to jump directly into the courses he was most interested in taking.
"I'm already set up to start taking a medical anatomy lab on the same day I start taking psychology classes," Campbell said. "At other schools you would have needed to get a lot of other required classes out of the way, but I like that I can just get started on my major and minors right away."
The Class of 2022 is just getting started — and we're proud to welcome them into our YoteFam.
The College of Idaho has a 127-year-old legacy of excellence. The C of I is known for its outstanding academic programs, winning athletics tradition and history of producing successful graduates, including seven Rhodes Scholars, three governors, and countless business leaders and innovators. Its distinctive PEAK Curriculum challenges students to attain competency in the four knowledge peaks of humanities, natural sciences, social sciences and a professional field—empowering them to earn a major and three minors in four years. The College's close-knit, residential campus is located in Caldwell, where its proximity both to Boise and to the world-class outdoor activities of southwest Idaho's mountains and rivers offers unique opportunities for learning beyond the classroom.  For more information, visit www.collegeofidaho.edu.