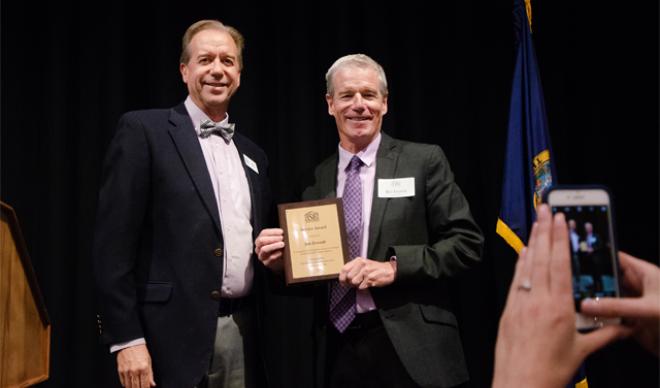 College of Idaho Co-President Jim Everett was recognized this week with a Service Award from the Idaho State Bar Association at their annual meetings in Boise. Everett was presented the award by Caldwell attorney David Kerrick, who attended the College in the 70s. Everett was acknowledged for exemplary service to the legal profession and Idaho citizens.
In his presentation of the award Kerrick mentioned Everett's involvement in "two of our finer institutions" in Caldwell, referencing The College of Idaho and the Caldwell YMCA, but also pointed out his direct involvement in training attorneys for leadership roles over the years. "He's been a presenter for the Idaho Academy of Leadership for Lawyers every year since its inception in 2011 and is a favorite of the participants, as well as being on the steering committee," Kerrick said. "Jim Everett is a high-energy, service-oriented person. We appreciate Jim for his willingness to provide leadership, inspiration and education for lawyers."
The College of Idaho has a 128-year-old legacy of excellence. The College is known for its outstanding academic programs, winning athletics tradition and history of producing successful graduates, including seven Rhodes Scholars, three governors, and countless business leaders and innovators. Its distinctive PEAK Curriculum challenges students to attain competency in the four knowledge peaks of humanities, natural sciences, social sciences and a professional field—empowering them to earn a major and three minors in four years. The College's close-knit, residential campus is located in Caldwell, where its proximity both to Boise and to the world-class outdoor activities of southwest Idaho's mountains and rivers offers unique opportunities for learning beyond the classroom.  For more information, visit www.collegeofidaho.edu.