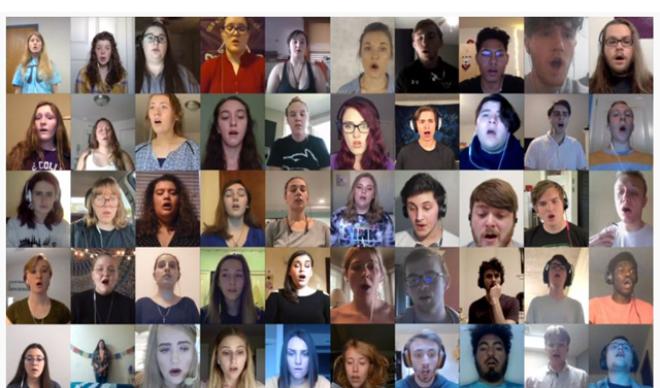 As the spring semester unfolded, Dr. Brent Wells knew there was a task left unfinished. A commitment not yet fulfilled.
Despite the shift to online learning and the geographic scattering of his choir, the College's choral director connected with sophomore Aspram Kharatyan and the two teamed up to compose an Armenian lullaby, Ari im Sokhag (Come, my Nightingale). But that wasn't the end of the story.
The commitment was that the College's choir, which included Kharatyan, would perform it.
So Wells, with the help of Kharatyan, went to work putting it together, even though he admitted he was learning as he went.
"When I was in my doctoral program, we didn't spend any time researching how to create virtual choirs," he joked.
It started with Wells composing the piece, then conducting an accompanist in playing the musical score. Wells and Kharatyan worked together on the lyrics and pronunciations, which provided its own challenges since Kharatyan returned home to Armenia, which borders Turkey between the Black and Caspian Seas, to complete the spring semester after the College suspended in-person learning in March. The time difference between Idaho and Armenia is ten hours, leading to some late-night work between the pair.
Once the lyrics were ready, four singers recorded themselves singing the song's four parts – soprano, alto, tenor, and bass. Those four recordings were sent to the rest of the choir, each of whom learned their own part, recorded it, and then sent the recording back.  Fifty individual performances, including Kharatyan, coming together to create one song. A sound engineer then spent a week sewing all the pieces together. In all, Wells estimated it took over six weeks to complete the project.
You can watch the College's choir perform Ari im Sokhag (Come, my Nightingale) by clicking here.
"It will never be as synchronized as a live performance, it will never be as perfectly-blended as a live performance," Wells admitted. "But, considering the limitations that you have when you take fifty individual soloists and try to make them sound like a choir, I think it turned out really, really well."
It isn't the first time Wells collaborated closely with a student to compose a song from the student's native land. A collaboration with junior Erekle Vakhramovi of a Georgian folk song was published and has been widely performed by other choirs. He had promised Kharatyan at the beginning of the year that he would compose the song for the College's annual World of Song concert, which was canceled due to the COVID-19 pandemic. But Wells soldiered on and saw the project through, despite its challenges.
He said he owed it to the students and to the College. But it also provided him an opportunity for closure on his own time at The College of Idaho. Wells is leaving the College to take a position at Brigham Young University.
"For me, it felt like a final punctuation point on a really wonderful nine years of my career," he said. "It definitely played a part in wanting to make that extra effort, to make something that I knew was going to be time-consuming and challenging, but I felt like it was something that needed to be done."
The College of Idaho has a 129-year-old legacy of excellence. The College is known for its outstanding academic programs, winning athletics tradition, and history of producing successful graduates, including seven Rhodes Scholars, three governors, and countless business leaders and innovators. Its distinctive PEAK Curriculum challenges students to attain competency in the four knowledge peaks of humanities, natural sciences, social sciences, and a professional field—empowering them to earn a major and three minors in four years. The College's close-knit, residential campus is located in Caldwell, where its proximity both to Boise and to the world-class outdoor activities of southwest Idaho's mountains and rivers offers unique opportunities for learning beyond the classroom.  For more information, visit www.collegeofidaho.edu.