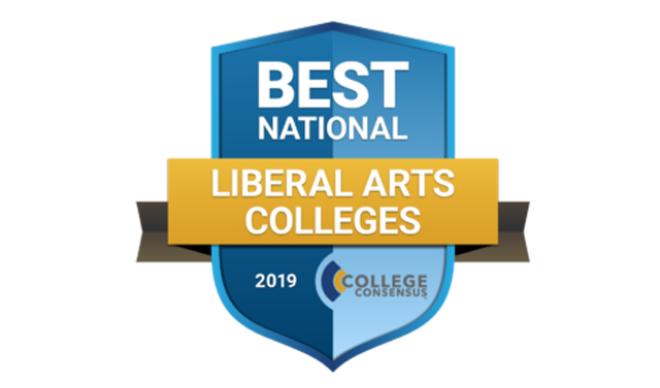 A guide to America's top liberal arts colleges has released its rankings for 2019 and The College of Idaho has scored well again – ranking in the top 100 overall and tops among all institutions of higher learning in the state of Idaho.
College Consensus is an aggregate ranking that brings together data from reputable college ranking sites like The Wall Street Journal, Wallethub, U.S. News & World Report, plus trustworthy student review sites like Cappex and Niche. When those rankings were calculated, along with the Student Review Ranking, The College of Idaho ranked no. 97 among all liberal arts colleges. Williams College in Massachusetts was the top-ranked school overall on the list.
"We are very proud of this," Co-President Doug Brigham said. "It's a reflection of the time and effort of a lot of great people, from the faculty and students to the staff, our alumni, our supporters, and our community."
College Consensus also provides state-by-state rankings for the top colleges and universities and the College topped the list in Idaho after placing second in last year's rankings.
The College of Idaho scored well academically in its profile according to College Consensus, which stated the College, "has achieved very real, quantifiable success with their initiative, including an 86% freshman retention rate, 63% four-year graduation rate, and uncommonly high 85% medical school acceptance rate for graduates."
The PEAK curriculum drew high marks once again, saying, "Academic life at The College of Idaho is characterized by the innovative PEAK program, a curricular plan that transforms the traditional liberal arts method (two years of foundational courses, two years of major courses) into a far more dynamic and marketable model."
And the College also earned positive reviews for its diverse student population, strong international base, and access, noting that nearly one-third of the student body are first-generation college students.
This latest ranking comes on the heels of the College being included earlier this month for the ninth-straight year in the 2020 Fiske Guide to Colleges, with The College of Idaho being the only liberal arts college selected in the Guide between the Rocky Mountains and the west coast.
The College of Idaho has a 128-year-old legacy of excellence. The College is known for its outstanding academic programs, winning athletics tradition and history of producing successful graduates, including seven Rhodes Scholars, three governors, and countless business leaders and innovators. Its distinctive PEAK Curriculum challenges students to attain competency in the four knowledge peaks of humanities, natural sciences, social sciences and a professional field—empowering them to earn a major and three minors in four years. The College's close-knit, residential campus is located in Caldwell, where its proximity both to Boise and to the world-class outdoor activities of southwest Idaho's mountains and rivers offers unique opportunities for learning beyond the classroom.  For more information, visit www.collegeofidaho.edu.