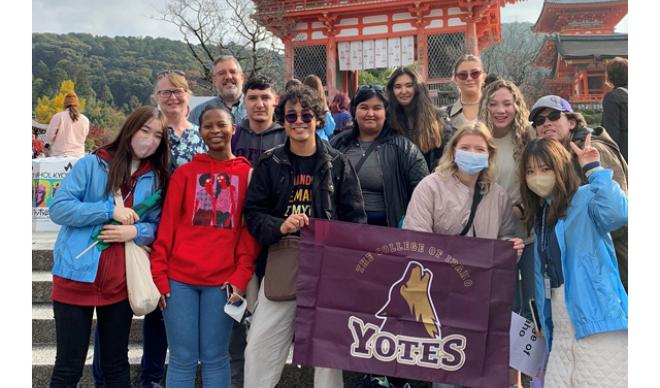 The College of Idaho has a proven track record of excellence in Model United Nations conferences. The College's team pushed that track record to new heights over the Thanksgiving break in Kobe, Japan.
It marked just the second time the College had taken a team outside of the United States for a Model U.N. conference (the other was in 2016, to Jakarta, Indonesia). It also marked the first time the College collaborated with Naresuan University, a university in Thailand located about 225 miles north of Bangkok. Naresuan University was participating in its first-ever Model United Nations event and College's students mentored Naresuan's students on what to expect and how to excel, but the mentorship went beyond that.
"I also mentored their faculty and administrators on how to start and build a Model U.N. program," said Rob Dayley, professor of political economy as well as the College's Model U.N. advisor. "It was such a big deal for Naresuan to participate in this conference, that they sent an entourage of four Naresuan University administrators from Thailand to observe their students in Kobe, including a university Vice President, a Faculty Dean, and Assistant Deans."
The two groups worked so well together that they were recognized as a Distinguished Delegation, just missing a top-five finish among the 69 colleges and universities from five different continents at the conference. Dayley compared it to earning a silver medal at the Olympics.
"I was pretty sure, as a result of the collaboration, that we might not win an award this conference," Dayley said of the students' performance. "Our students surprised even me, and I have a ton of confidence in them already. I told them I've never been more proud of a C of I delegation for all that they did. Mentoring these Thai students throughout our preparation and the conference itself was consequential, impactful."
The two groups – nine College of Idaho students and four Naresuan students – met online throughout the Fall term to prepare. The Naresuan students even joined one of Dr. Dayley's classes online very early in the morning (in Thailand) in anticipation of the conference.
"The collaboration between Naresuan University and The College of Idaho will be an invaluable inspiration for our university's next generation of students," said Pongsira "Jack" Kongthaewtong, the Assistant Dean of the Faculty of Social Sciences and Model U.N. advisor for Naresuan University. "Our trip has encouraged teachers and students to get out of their comfort zones and participate in international and global activities. Our achievement in Japan exemplifies a local university creating social impact in the global forum. We treasure this remarkable collaboration between our institutions: a significant initiation, a sign of hope, and a positive change for Thai education and society."
You can read more about the Naresuan experience in Kongthaewtong's own words here.
Along with the team's recognition, senior Joseph Howell and junior Lorena Mazariegos won a prestigious Position Paper Award for their work on the Security Council.
Each team is assigned a nation to represent at the conference and it is the team's assignment to best represent that country, not their own personal beliefs and opinions, at the conference. The College and Naresuan University represented two countries at the conference, Portugal and the United Kingdom.
The College's Model U.N. team that traveled to Kobe, Japan, from November 21 – 26:
Jahona Akbarova (Senior, Business major)
Lana Grubsic (Senior, International Political Economy major)
Patience Mabidikama (Senior, International Political Economy major)
Joseph Howell (Senior, Political Economy major)
Sam Bohannon (Junior, Political Economy major)
Fernando Barrios (Junior, International Political Economy major)
Lorena Mazariegos (Junior, International Political Economy major)
Tigran Abrahamyan (Junior, History major)
Elizabeth Beck (Sophomore, Biomedical Sciences major)
The Naresuan students who joined the College's team:
Worapol Phochanasombut
Chanida Sangchan
Phonpong Pongpimol
Wana Jinapun
The College of Idaho has a 131-year-old legacy of excellence. The College is known for its outstanding academic programs, winning athletics tradition, and history of producing successful graduates, including eight Rhodes Scholars, three governors, and countless business leaders and innovators. Its distinctive PEAK Curriculum challenges students to attain competency in the four knowledge peaks of humanities, natural sciences, social sciences, and a professional field—empowering them to earn a major and three minors in four years. The College's close-knit, residential campus is located in Caldwell, where its proximity both to Boise and to the world-class outdoor activities of southwest Idaho's mountains and rivers offers unique opportunities for learning beyond the classroom. For more information, visit www.collegeofidaho.edu.