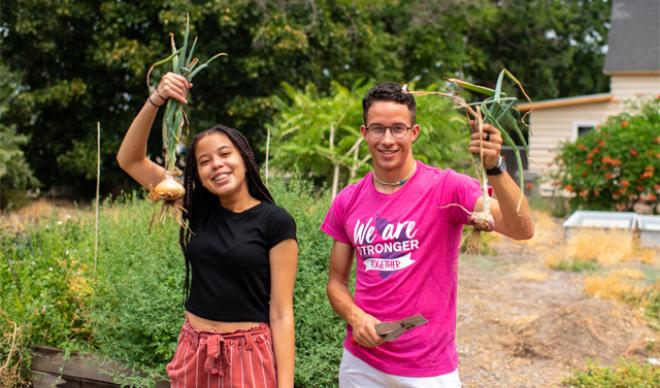 Onions have been delivered. Corn and tomatoes are on the way. Harvest season has begun for the Eco-House community garden on Oak Street, across from the J.A. Albertson Activities Center parking lot.
The garden is being maintained over the summer by the College's sustainability stewards, Ian Clifford and Sakho Littler. Everything that is grown in the garden is being donated to the College's food pantry, which helps fight food insecurity for the campus community.
"With our Environmental Leadership Initiative grant money, we will likely buy more fruit trees or other plants for the garden," said Clifford, who will be a junior in the fall, majoring in English and environmental studies. "Though some of those won't produce this year, they will in future years and hopefully make the garden more appealing for future generations of C of I students to upkeep."
Clifford and Littler say they've done two harvests with more to come. Corn, tomatoes, peppers, and carrots are among the items that are still ripening just across the street from the campus. And the deliveries have been a welcomed sight for the food pantry.
"When Ian and Sakho first approached the food pantry about the possibility of receiving their fresh produce, we were thrilled. Even more exciting was the first delivery of cabbage and green beans two or three weeks ago, followed by onions and basil this week," said Tammy Harris of the Student Affairs department, who oversees the pantry. "To have local, home-grown, organic produce is a treat and it has been very well-received, and goes quickly."
For more information on the community garden or the College's sustainability stewards, contact the Outdoor Program. The no-cost food pantry, located in the McCain Student Center, is open Tuesdays and Fridays during the summer from 4 to 6 p.m. The hours will likely change once school resumes in September. The pantry has both perishable and non-perishable items. It is not limited to students – staff and faculty are welcome to visit the pantry.
The College of Idaho has a 130-year-old legacy of excellence. The College is known for its outstanding academic programs, winning athletics tradition, and history of producing successful graduates, including seven Rhodes Scholars, three governors, and countless business leaders and innovators. Its distinctive PEAK Curriculum challenges students to attain competency in the four knowledge peaks of humanities, natural sciences, social sciences, and a professional field—empowering them to earn a major and three minors in four years. The College's close-knit, residential campus is located in Caldwell, where its proximity both to Boise and to the world-class outdoor activities of southwest Idaho's mountains and rivers offers unique opportunities for learning beyond the classroom. For more information, visit www.collegeofidaho.edu.