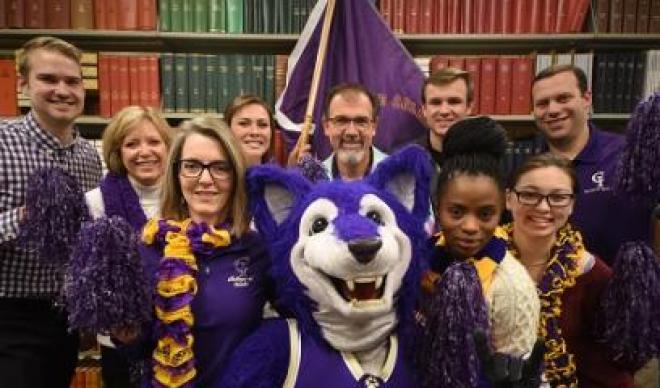 The College of Idaho's 2018 Homecoming and Family Weekend has finally arrived, and we're inviting the entire C of I community to "Come Together" and join in for a full four days of exciting events October 4-7, from class visits and campus tours to athletic contests and music concerts.
"This is one of those years where there is truly something for everybody," said Sally Skinner, C of I's Director of Alumni & Parent Relations. "It's hard to focus on just one standout event."
Thursday, Oct. 4 will welcome its Homecoming arrivals with all-day class visits and self-guided tours of the Cruzen-Murray Library, as well as guided tours of the campus at 10 a.m. and 2 p.m. The 2018 winners of the Distinguished Alumni Awards will be honored at an awards celebration at 5:30 p.m., with TED-style presentations from the winners and a performance by the C of I Alumni and Friends Choir starting at 7:15 p.m.
Friday, Oct. 5 has a full schedule of events throughout the day, including special mealtimes. The day will start with the Business Advisory Council Breakfast at 8 a.m. featuring keynote speaker Megan Ronk '01, Director of Business Innovation and Development at Idaho Power. The Presidents' Luncheon at noon will feature both C of I co-presidents, Jim Everett and Doug Brigham, as well as student and faculty presidents. The "Friday Night Fever" Disco Dinner makes the most of its 70s theme at 5:30 p.m., featuring a special concert by West Abbey Road.
A number of presentations will be held throughout the day as well. Dr. Megan Dixon will offer a special presentation for visitors at 10 a.m., "Explaining Russia," to provide insights into Russia and its possible relationship with the United States. The ribbon-cutting ceremony for the John Wagers Memorial Garden will take place soon afterwards at 11:30 a.m., celebrating the recent beautification improvements funded by the Wagers family. The evening will feature the opening of "Tide Pool" at the Rosenthal Gallery of Art starting at 4 p.m., while Dr. Sean Farley '79 will lead a presentation on his bear biology research at the Orma J. Smith Museum of Natural History at 7:15 p.m.
Saturday and Sunday offer plenty of opportunities to revel in the athletic pride of the Yotes, including tailgate events throughout Saturday morning in advance of the football Homecoming game against Carroll College at 1 p.m. Sunday also includes the Campus Ministries Coyote Breakfast at 10 a.m. and chapel service at 11 a.m., leading into the afternoon's soccer matches starting at noon.
For a full schedule of this year's events, click here.
We're excited to have the YoteFam back on campus!