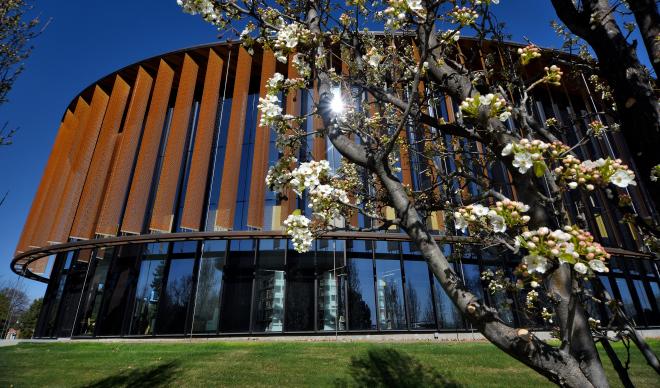 Only a month after receiving their first award from the American Institute of Architects, the design team behind The College of Idaho's Cruzen-Murray Library has once again received top honors from a second jury of AIA professionals.
At the AIA Arizona Awards Gala on Nov. 9, the Cruzen-Murray Library received the AIA Arizona Design Excellence Honor Award – the highest design honor distributed by the organization. It is the same honor the library earned at the AIA Western Mountain Region Conference in October, although both awards were granted by separate juries belonging to the regional and state organizations.
"It is exciting and gratifying to see our beautiful building receive this recognition, though the greatest prize of all is getting to work in and share this space with our students and faculty," said Cruzen-Murray Library Director Christine Schutz.
Designing architecture firm richärd+bauer, which is based in Arizona, submitted the library for consideration for the Arizona state awards. Project manager Jeremy Kotter was on hand to accept Arizona's award earlier this month along with Schutz and Doug Cooper of McKibben+Cooper, a Boise-based architecture firm who partnered with richärd+bauer on the project.
"There is a lot of great work coming out of your [Arizona] territory," said AIA Juror Alice Kimm. "There are some very special things going on here."
The library will display the award publicly inside the Cruzen-Murray Library alongside its previous AIA award.
 "AIA Arizona awards recognize the best work produced by architects based in Arizona," Schutz said. "It was exciting to see the other fine projects that won these awards and I am pleased for the College that our library could be in their select company."
The College of Idaho has a 127-year-old legacy of excellence. The C of I is known for its outstanding academic programs, winning athletics tradition and history of producing successful graduates, including seven Rhodes Scholars, three governors, and countless business leaders and innovators. Its distinctive PEAK Curriculum challenges students to attain competency in the four knowledge peaks of humanities, natural sciences, social sciences and a professional field—empowering them to earn a major and three minors in four years. The College's close-knit, residential campus is located in Caldwell, where its proximity both to Boise and to the world-class outdoor activities of southwest Idaho's mountains and rivers offers unique opportunities for learning beyond the classroom.  For more information, visit www.collegeofidaho.edu.