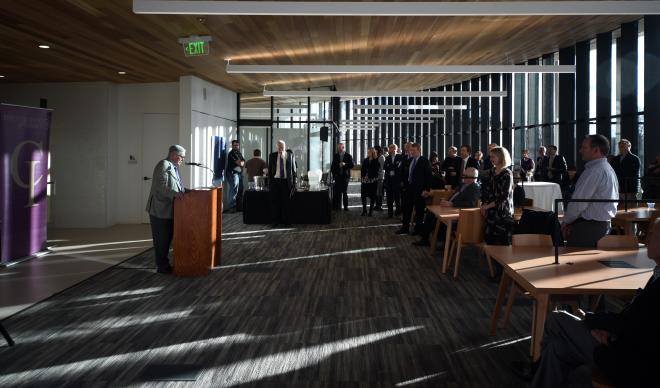 In October of 2010, former College of Idaho Board of Trustees member Debbie Cruzen-Murray affixed C of I President Marv Henberg with a hard stare following a dinner in her native California. Then, just as her father Edward Cruzen had done business decades prior, she gave Henberg a nod of her head, holding out her hand for him to shake.
"Marv, let's do this," Henberg recalled Cruzen-Murray saying that night.
Cruzen-Murray, who had been an active and effective board member from 1991 through 2003, had just promised Henberg that she and her husband Richard Murray intended to make a substantial gift to the College to produce what has now become the Cruzen-Murray Library. No contract was drawn. No papers were signed. All it took was Cruzen-Murray's word, nod and handshake for Henberg to know her sincerity.
"I knew by the firmness of her grip and the look in her eye that we had a deal," Henberg said. "When I came back to the board with the news, several pressed for a signed agreement or a copy of her will. I said I would not ask Debbie for any such proof, but that any of them were welcome to do so if they wanted to be responsible for losing the gift entirely."
It was one of the many stories shared about Cruzen-Murray at the Cruzen-Murray Library's private dedication on Feb. 22, three weeks after the library's official opening for students and one week after the last of the library's books were moved into the space thanks to the aid of the Cruzen-Murray Book Brigade. Henberg, now president emeritus of the College, served as one of the dedication's keynote speakers, a platform he used to honor the library's namesake and benefactor.
From the moment Henberg began his speech, he asked the VIPs invited to the event to look around them and take in the setting they now found themselves in.
"Please, let us all feast our eyes on the splendor of this building and recognize it for what it is: a testament to Debbie Cruzen-Murray's aesthetic of excellence," Henberg said.
Henberg spoke at length about Cruzen-Murray's eye for detail and appreciation for the aesthetic. An interior designer by profession, Cruzen-Murray had spent her life beautifying the world around her, from providing the College's choirs with new robes to replace their outdated ones to spearheading remodels of the campus' Blatchley and Langroise Halls. Henberg called this outlook a constant inspiration.
"She had a deep-seated conviction that beauty is what brings out the best of the human spirit, while squalor or even plainness does just the opposite, depressing the will to achieve," Henberg said. "Her love for the College of Idaho centered on how students needed to draw inspiration from their surroundings in order to drive themselves and their fellow students towards excellence."
Henberg said Cruzen-Murray was deeply engaged in the design process of the library she did not wish to be built until after her death in 2015. She had been insistent on a few key design choices that are reflected in the library's final appearance today. There could be no arches, nor any columns. Before the initial call for architects was sent out, she quickly nixed the idea of a "pillow room" inside the library that would have featured bean bag chairs.
"So emphatic was her veto that I believe if a bean bag chair ever makes its way into the Cruzen-Murray Library, that portion of the building, due to no fault of the architects or contractor, will certainly collapse," Henberg said.
Today, the Cruzen-Murray Library stands triumphant as one of the first buildings visitors see as they travel down Caldwell's 21st Street. Library Director Christine Schutz said she was grateful for Cruzen-Murray's vision and generosity for the gift, which Schutz has seen used to full effect in the three weeks since its opening.
"I finally have an answer to what my favorite part of the library is," Schutz said. "It's watching students use it. It's very difficult not to get excited with them as they go about their research. Our students, our Yotes, are the reason for this building. Its life and purpose, shaped by Debbie Cruzen-Murray's vision, will continue to inspire them and attract students who are eager to learn."
Board of Trustees Chair Laura Turner '79 said Cruzen-Murray herself would always be reflected in the library's legacy.
"As an alum, I'm touched that Debbie would choose our school for this tremendous gift," Turner said. "She knew what a special place the College is, and now her gift is a shining light for all of us to see."
The College of Idaho has a 125-year-old legacy of excellence. The C of I is known for its outstanding academic programs, winning athletics tradition and history of producing successful graduates, including seven Rhodes Scholars, three governors, four NFL players and countless business leaders and innovators. Its distinctive PEAK Curriculum challenges students to attain competency in the four knowledge peaks of humanities, natural sciences, social sciences and a professional field—empowering them to earn a major and three minors in four years. The College's close-knit, residential campus is located in Caldwell, where its proximity both to Boise and to the world-class outdoor activities of southwest Idaho's mountains and rivers offers unique opportunities for learning beyond the classroom.  For more information, visit www.collegeofidaho.edu.