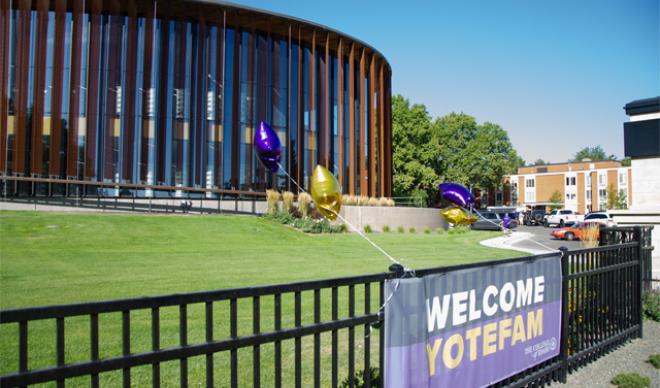 The College of Idaho announced Wednesday that its 2020 Fall enrollment is 1,114 undergraduate students, which marks the third-largest overall enrollment in the history of the College.
"We are pleased to be able to have a third consecutive year of increasing enrollment and close to an all-time record for enrollment," said Co-President Doug Brigham. "It reinforces our belief that now, more than ever, students are seeking both academic excellence and a small, close-knit family environment. Thanks to our great faculty and staff, we deliver both of those - whether in a virtual or in-person setting."
Despite the COVID-19 pandemic, the College welcomed 311 new students this fall, which marks the fourth consecutive year that number has been above 300. The class is the ninth-largest ever for the College.
"Given the uncertainty during these past several months, we are extremely pleased with the results of our recruitment efforts this year," said Vice President of Enrollment Management Brian Bava. "The confidence that new students had that the College would still be able to deliver on an excellent academic experience regardless of modality, speaks to the faculty's commitment to ensuring a smooth start to the academic year. Also, the improvement in freshman-sophomore retention and the overall student enrollment this fall is a clear indicator of the affinity that our students have with The College of Idaho."
The incoming freshman class carried a cumulative high school grade-point average of 3.73 and an average ACT score of 23.9. The overall undergraduate student body includes 649 students from Idaho with students from 23 different states represented.
The College also has 199 international students currently enrolled, which is 18 percent of the total student body. Those students come from 93 other nations. Seven countries beyond the United States have at least six students enrolled at the College, led by the Kingdom of Eswatini (formerly Swaziland), Nepal, and South Africa.
The largest overall enrollment at The College of Idaho is 1,144 in 2014-15. The second-largest is 1,122 the previous year, 2013-14.
The College began the year on August 19 with optional residency for students and all classes being offered online as part of a phased reopening plan.
The College of Idaho has a 129-year-old legacy of excellence. The College is known for its outstanding academic programs, winning athletics tradition and history of producing successful graduates, including seven Rhodes Scholars, three governors, and countless business leaders and innovators. Its distinctive PEAK Curriculum challenges students to attain competency in the four knowledge peaks of humanities, natural sciences, social sciences and a professional field—empowering them to earn a major and three minors in four years. The College's close-knit, residential campus is located in Caldwell, where its proximity both to Boise and to the world-class outdoor activities of southwest Idaho's mountains and rivers offers unique opportunities for learning beyond the classroom.  For more information, visit www.collegeofidaho.edu.