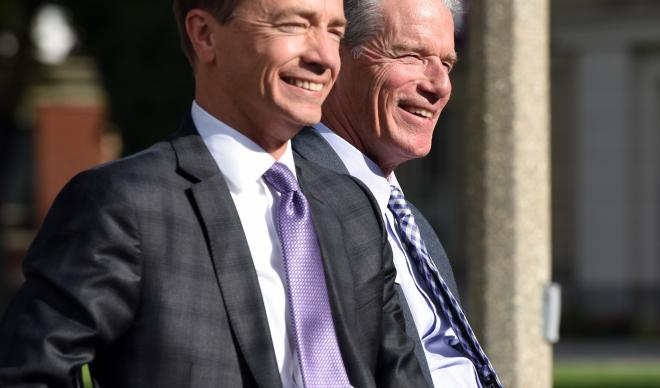 As Doug Brigham and Jim Everett gave their first remarks as the newly inaugurated 14th co-presidents of The College of Idaho, both men admitted they were blessed with fortune – the fortune of positive support systems and mentors, and the richness of experiences that followed.
"You won't find me on any Forbes 500 list, but I think I'm the richest man in Idaho," Everett proclaimed. "We get to define the richness in our lives, and being here today, this is as good as it gets for this stage of my life."
While Everett and Brigham have been officially serving as the College's co-presidents since April 2018, Sept. 19 was marked with an official inauguration celebration for the pair of leaders, as well as an official acceptance of charges by student, staff, faculty and Board of Trustees representatives.
Associated Students of the College of Idaho President Drake Kuykendall charged the co-presidents with maintaining a joint presence on the campus and to never stop learning from the students; mathematics professor and former C of I Faculty President Lynda Danielson reminded the new leaders about their requested presence at the next faculty assembly; C of I Director of Student Involvement and Assistant Dean of Students Savala DeVoge called for the co-presidents' future transparency and promotion of balance, putting a new spin on C of I founder Dr. William Judson Boone's classic quote.
"Dr. Boone said 'Let them come, let them all come, and let us see what they can do,'" DeVoge said. "Well, you have come – and let us see what we can help you do."
The ceremony was defined by a jovial atmosphere rather than pomp and circumstance — not unlike the leadership styles of Brigham and Everett themselves. C of I Theatre Professor Joe Golden, the ceremony's emcee, regularly cracked jokes and teased each of the afternoon's speakers; students from the International Student Organization, AFRO Club, music and theatre departments all kept the mood exciting through their respective celebratory performances.
Even C of I Trustee Doug Oppenheimer and former C of I Trustee Skip Oppenheimer had fun comparing Brigham and Everett to other classic dynamic duos in history, including an actual appearance by Batman and Robin. But even amid the jokes, the Oppenheimers affirmed the bright future of the C of I under Everett and Brigham's leadership, praising Everett's history of positive impact as the former CEO of the Treasure Valley YMCA as well as Brigham's selfless and patient attitude.
"The C of I is receiving important leadership at an exciting time, as the state's oldest college has remained consistently among the top liberal arts colleges in the nation," Doug Oppenheimer said. "Under Jim and Doug's leadership, we think the best is yet to be."
Brigham framed his remarks as "winning life's lottery" in regards to his involvement at the C of I, from his first fateful brush with the College through former C of I Athletic Director Marty Holly as a senior in high school to meeting his wife and building relationships with mentors during his time as an undergraduate Yote before graduating in 1987.
"One of the best things we've done since we came on is having the opportunity to listen to the stories of our staff and faculty, and that has caused me to reflect on how I've connected to the C of I as well," Brigham said. "There is not a doubt in my mind that this is hallowed ground."
Everett, too, shared his optimism for the future of the campus, adding how the atmosphere of the students and the enthusiasm they have for their education in the liberal arts makes him equally as excited.
"You can't be here for five minutes and not be optimistic about the future," Everett said. "Every job I've ever had has been something I might not have had the best experience for on paper, but through the liberal arts and the mentors I've had, everything has come together. The students have kept me feeling young and optimistic."
Both Brigham and Everett took the opportunity to praise their fellow co-president in their remarks. Of Everett, Brigham said "I have never met anyone else like this guy in my life. There's no one else as passionate about helping others as Jim, and that feeling has never wavered or changed." Of Brigham, Everett said "I learn every day from this guy. Doug can have any job in this or any community, but he chose to be here, and I'm honored and thrilled to be here with him."
The new co-presidents accepted their charges – and now, each is looking to the future as a team.
"The College has always been an amazing place of learning," Everett said. "Students can't go wrong if they choose to come here – we just have to spread the word. Go Yotes!"