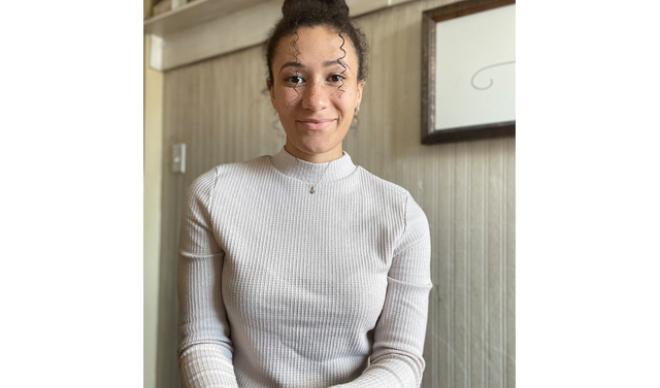 Kaya Evans, a 2021 graduate of The College of Idaho, is one of 32 Americans to be named a Rhodes Scholar this year and becomes the eighth alum to win the oldest and most celebrated international fellowship award in the world.
Evans graduated summa cum laude with a bachelor's degree in political economy and minors in pre-law, Spanish, environmental science, and anthropology-sociology, while also serving in student government and several clubs. She was also captain of the women's soccer team for two seasons and helped lead the team to its first conference championship and berth in the national championship tournament, and served on campus as a student ambassador and a PEAK mentor. Originally from Pocatello, her senior thesis focused on issues of voter suppression and since graduating, she returned to eastern Idaho to work on political campaigns.
Evans learned of her selection this past Saturday. "They announced my name as a winner and I was kind of shocked. I had to sit there and process for a minute before I started letting people know. And it's only just starting to sink in." She shared the news first with her parents. "My dad cried. And I think I've seen him cry two or three times in my life. And my mom was just in disbelief. She just kept saying 'shut up, shut up, shut up.' Then I called my younger brother because he goes to the College, so I wanted to let him know right away too."
More than 2500 students applied for the Rhodes Scholarship this year with 235 finalists. Rhodes Scholarships provide all expenses for two or three years of study at the University of Oxford, ranked as the no. 1 university in the world in some global rankings. Elliot F. Gerson, American Secretary of the Rhodes Trust, calls the scholarships "the oldest and best-known award for international study, and arguably the most famous academic award available to American college graduates."
"We are so proud of Kaya and her dedication to being the best at everything she sets her mind to," said Co-Presidents Doug Brigham and Jim Everett. "She has proven that you can balance several aspects of life and excel in nearly all of them. She is now the eighth example from The College of Idaho that you don't have to have be associated with an Ivy league school to achieve the greatest academic honor in our nation."
Other schools represented in this 2023 Rhodes Scholar class are Harvard (6), Yale (5), Columbia (3), MIT (3), the Armed Services Academies (3), Georgetown (2) and one each from Princeton, Duke, Northwestern, Wake Forest, Texas, Georgia, Washington & Lee, and Arizona State.
At Oxford, Evans plans to pursue a Master of Philosophy in political theory and will begin in the fall of 2023.
"Since it is kind of settling in now, people keep telling me that this (Rhodes) opportunity is going to change my life, which I believe," Evans said. "But I also believe that the slower, but almost more important, changing of my life came from the four years I spent at The College of Idaho. And I mean that very, very sincerely. I'm so blessed really, that I found educators there and a community there that cared to develop me beyond their understanding of me as a student, but they cared to develop me as a person. I think that was really invaluable. If what I get at Oxford, honestly, is a shade of that, it will have been worth it."
It did not take long for The College of Idaho faculty to see the potential in Evans.
"On her very first day in my Plato course Kaya's freshman year, I saw a Rhodes Scholar," said Political Economy Department Chair Kerry Hunter. "My job was merely to help her see it, to help her discover the depth of her wisdom, courage, passion and strength. She has done just that, and I could not be more proud."
"I always told Kaya she should run for student body president in her time here," said Women's Soccer Coach Brian Smith. "Though she didn't embark on that journey at the time, to now see what she is doing with her life and what she wants to do does not surprise me at all. I can think of no better candidate to become a Rhodes Scholar. She not only has the drive and determination to succeed academically, she knows how to lead, influence and serve others."
Evans wanted to publicly thank all of those helped her navigate the Rhodes application process, including professors Jasper LiCalzi, Kerry Hunter, Mee-Ae Kim, Sean Blackwell and women's soccer coach Brian Smith, as well faculty members Sue Schaper, Steve Maughan, Stelios Panageoutu and Rachel Miller who helped with mock interviews. She also thanked her close friends from the soccer team, Cam Coyle '21 and Kylee Atkins '21, as well as her younger brother Amari Evans (a junior majoring in political economy).
"It's actually very important to me that I'm representing The College of Idaho specifically, and Idaho specifically," Evans said. "There is a tendency to write off states like Idaho and schools like The College of Idaho, who people probably haven't heard of just because it's so small. Which is unfortunate because it's not a reflection of the quality of the institution at all."
Besides Evans, The College of Idaho has had two other Rhodes Scholar finalists over the past two years. Current senior Ian Clifford was a finalist for this year's class of 2023 and his older brother Andrew Clifford, who graduated in 2021, was a finalist for the Rhodes class of 2022.
Prior to Evans, the most recent College of Idaho graduate to be named a Rhodes Scholar was Amanda Frickle in 2012.
The College of Idaho has a 131-year-old legacy of excellence. The College is known for its outstanding academic programs, winning athletics tradition, and history of producing successful graduates, including eight Rhodes Scholars, three governors, and countless business leaders and innovators. Its distinctive PEAK Curriculum challenges students to attain competency in the four knowledge peaks of humanities, natural sciences, social sciences, and a professional field—empowering them to earn a major and three minors in four years. The College's close-knit, residential campus is located in Caldwell, where its proximity both to Boise and to the world-class outdoor activities of southwest Idaho's mountains and rivers offers unique opportunities for learning beyond the classroom. For more information, visit www.collegeofidaho.edu.