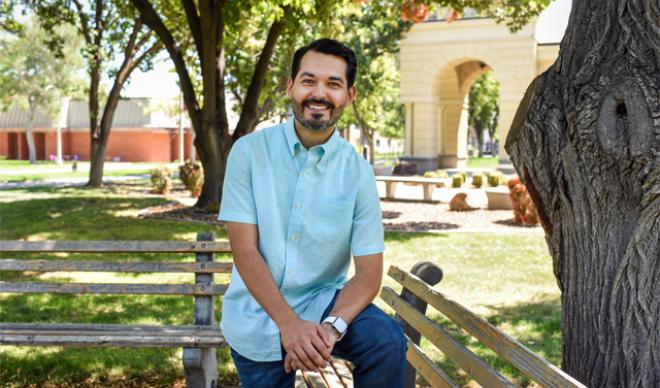 Earlier this year, Adan De La Paz was awarded a two-year fellowship with Association of International Educators (NAFSA). But with other things happening in the country – notably, the COVID-19 pandemic – many didn't notice.
Now, the work done by De La Paz has been selected to be presented at an annual Diversity & Inclusion Summit at Boise State University in October.
De La Paz's fellowship is two years in length. He says the first year is the research and development phase – find an idea and grow it. Year two is the activation and implementation. De La Paz's idea revolves around the concept that the College's Inclusion and Intercultural Engagement Department is often two different things at other colleges and universities. He says there is often a separation between domestic students of color and international students. At the College, however, De La Paz and Arnoldo Hernandez work together and the two reside side-by-side in the College's community.
"This is something that I thought was the norm, but it's not," said De La Paz. "I want to explore this a little more and look at ways to expand the intercultural development; to create tools that benefit all audiences in that realm."
All audiences. Across campus and across society in general. The idea intrigued the organizers of the summit at BSU so much that De La Paz was invited to present, despite the fact that the presenters are usually internal from Boise State.
"Culture is everywhere," De La Paz continued. "We have to work together to understand if somebody comes from a different culture, however we define that. How do we understand that and come together and work when we need to collaborate and need to have synergy?"
The idea is rooted in helping bridge differences between societies. Those "societies" can be geographic or they can be different departments within a company or different classes within a school. The tools and resources that he is researching as part of this fellowship can be applied many different ways. But he wants to bring it back to the College and apply it to this community.
"This isn't a debate; there's debate and then there's dialogue," De La Paz said. "Some people get into a conversation and it's a debate, 'I'm right and you're wrong,' and it should just be a dialogue."
Working together, he says, is the key.
"People have different backgrounds, people have different experiences, different reasons for coming to the College," he concluded. "But once they get here, we become a YoteFam and we really need to live into that idea of making the circle bigger."
The College of Idaho has a 129-year-old legacy of excellence. The C of I is known for its outstanding academic programs, winning athletics tradition and history of producing successful graduates, including seven Rhodes Scholars, three governors, and countless business leaders and innovators. Its distinctive PEAK Curriculum challenges students to attain competency in the four knowledge peaks of humanities, natural sciences, social sciences and a professional field—empowering them to earn a major and three minors in four years. The College's close-knit, residential campus is located in Caldwell, where its proximity both to Boise and to the world-class outdoor activities of southwest Idaho's mountains and rivers offers unique opportunities for learning beyond the classroom.  For more information, visit www.collegeofidaho.edu.