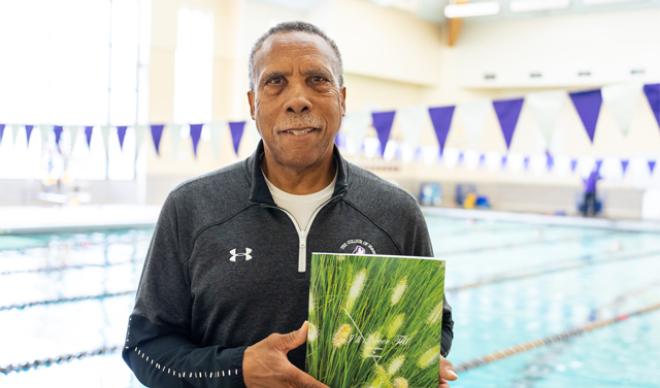 People who spend time on The College of Idaho's campus long enough will get to know Mike Shines. Whether it's through his role as the director of the College's aquatic center or his role as a life coach in Hendren Hall, he has touched many lives during his years in Caldwell. He wears another hat, one that extends beyond the campus community: published author.
Shines' book, "I'll Never Tell," was first published in 2013. The book just finished its fifth printing this past fall, published in conjunction with Domestic Violence Awareness Month in October. It's a simple book, a coffee-table-style book with short quotes and words accompanied by photos taken by Shines himself. The words are meant to offer support and inspiration to people and most of the money generated by the sales of the book is donated to domestic violence support causes. The remaining money goes toward publication costs so he can continue to update and re-print the book. He says he already has a list of more than 40 potential quotes for the next update.
"It's all simple," Shines said. "That's what I'm always looking for because that's what people understand. They don't have to read a whole article or a full page. They only have to read one line."
The inspiration behind the book dates back over 40 years to an evening when Shines was out with friends at a local establishment in Boise. At the end of the evening, he emerged to find a crowd of people watching a man physically assault a woman. No one was intervening.
"It wasn't until he threw her on my car that I said something, that I got involved," Shines said. "That has haunted me all these years. It took me until 2013 to finally find a way to do something to give back."
Shines distributes the book far and wide beyond the campus. Among the people that he sends books to each year are NFL commissioner Roger Goodell and entrepreneur/NBA owner Mark Cuban. He talks to people who have used his book to summon the courage to break the cycle of domestic violence. That's what makes this project, in his mind, his crowning achievement.
"It'll be number one, it'll be at the top," Shines said when asked how he'd rank the book among his many accomplishments. "I've been in a lot of great positions but this is the top of the list."
Shines' book, which is published by Caxton, a company based in Caldwell, is available through his website.
The College of Idaho has a 132-year-old legacy of excellence. The College is known for its outstanding academic programs, winning athletics tradition, and history of producing successful graduates, including eight Rhodes Scholars, three governors, and countless business leaders and innovators. Its distinctive PEAK Curriculum challenges students to attain competency in the four knowledge peaks of humanities, natural sciences, social sciences, and a professional field—empowering them to earn a major and three minors in four years. The College's close-knit, residential campus is located in Caldwell, where its proximity both to Boise and to the world-class outdoor activities of southwest Idaho's mountains and rivers offers unique opportunities for learning beyond the classroom. For more information, visit www.collegeofidaho.edu.