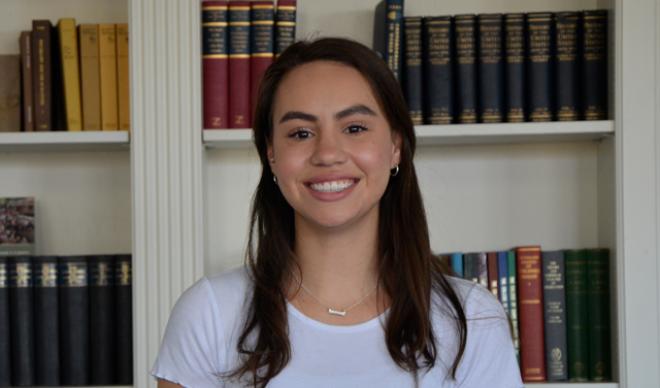 For Kyra Geissler, she grew up in Chicago, fascinated by the area's forest preserve. The trees, the green, the ability to get out and walk the trails.
"I thought I was in the wild world," said Geissler, a biology and environmental studies double major. "It was the best thing ever."
Now, the junior helps to lead student trips as part of the College's Outdoor Program and dreams of providing similar experiences for other people in densely-populated urban centers. The next step is the two-year Doris Duke Conservation Scholars Program, an internship she will complete through the University of Washington over the next two summers.
The program runs in multiple locations and Geissler was actually accepted into two different locations, choosing the Seattle location over Santa Cruz, California. She is one of just 20 to be invited to participate at the University of Washington out of hundreds of applicants. Other students to be chosen come from elite, liberal-arts institutions like Mount Holyoke College, Bowdoin College, Oberlin College, and the University of California – Berkley. This summer, she'll focus on studying and self-directed learning in a program that strongly encourages varying perspectives and providing voices to people from a host of backgrounds. That includes Geissler, a young woman who grew up in one of the country's most populous cities with little access to parks and recreation.
"I realize that being in Chicago, these spaces were really important to me," she said. "That access to at least some degree of nature and its processes is important."
Next summer, Geissler will be paired with a partner company of the Scholars Program at the University of Washington to do research or project-based work over eight weeks. Going back to her youth, to the forest preserves of Chicago, Geissler's focus – not only in the internship but in her career – will be rooted in what she already knows.
"My interests are urban conservation and creating access to outdoor spaces, bringing those spaces as close to urban areas as we can get," she explained. "Maintaining it is more of the conservation side but it depends on, 'do these spaces exist?' And a lot of times they don't, so a lot of the future of the work I'm going to go into will be restoration of habitat."
As an example, she pointed to an area of southern Illinois where land was restored to its mid-1800, pre-development look. The landscape, the plants, and the layout. But it wasn't until the restoration specialists introduced bison, huge animals who originally inhabited the area, that the restoration project truly begin to thrive.
"Those projects are so magical and they give me so much hope for the future," Geissler said of her long-term aspirations. "If I were to get a piece of land and they say, 'okay Kyra, do your thing,' and then I could bring it back to whatever the ecosystem had been."
Reflecting on her youth, she believes it is especially important in urban settings. And the experiences gained through this internship opportunity will help her as she moves forward.
"My goal is to make spaces like that possible, that's one of the reasons I chose this internship," she said. "It really lets you design your project. You're not just assigned one. They take your specific interests in conservation."
Which, as she puts it, is bringing a touch of Yosemite National Park closer to people who don't have the luxury of traveling. Attending school in southwestern Idaho has helped highlight the importance for her.
"Here, it's a way of life," Geissler said of access to open spaces in Idaho. "If you take someone from Boise and transplant them back east and they're in the concrete jungles (of major urban areas) they may not have realized what they'd be missing. I view the work I want to do as a service to those (urban) communities."
The College of Idaho has a 130-year-old legacy of excellence. The College is known for its outstanding academic programs, winning athletics tradition, and history of producing successful graduates, including seven Rhodes Scholars, three governors, and countless business leaders and innovators. Its distinctive PEAK Curriculum challenges students to attain competency in the four knowledge peaks of humanities, natural sciences, social sciences, and a professional field—empowering them to earn a major and three minors in four years. The College's close-knit, residential campus is located in Caldwell, where its proximity both to Boise and to the world-class outdoor activities of southwest Idaho's mountains and rivers offers unique opportunities for learning beyond the classroom. For more information, visit www.collegeofidaho.edu.