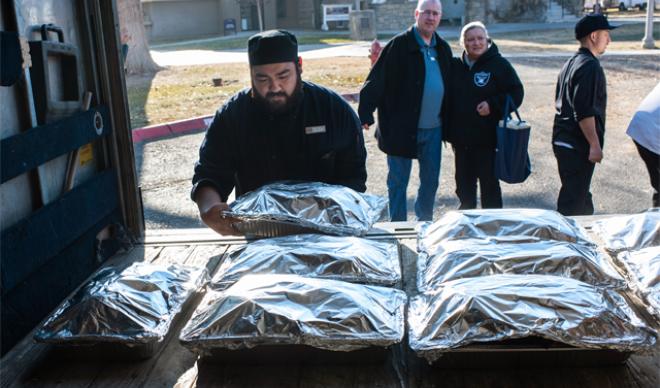 The College of Idaho's partner in food and catering services, Bon Appetit, puts in long hours to ensure the campus is well-fed. Last week, the crew put in extra hours in the spirit of Thanksgiving to help feed people who don't live on campus.
Bon Appetit partnered with the Boise Rescue Mission to help cook 125 turkeys that the Mission used at a pre-Thanksgiving event in Nampa over the weekend. No one made any money off the partnership, according to Bon Appetit general manager Chad Gross, it's a gesture of goodwill to help others.
"It's a no-brainer," Gross said of the opportunity to help the Mission. "If it's something we can do on top of what we're doing, then we're happy to partner with the community on donations like these."
The Boise Rescue Mission provided the turkeys. Gross said he and his staff provided the time and the equipment to cook them. The birds were cooked, 25 at a time, and then picked up by the Mission to be used for holiday meals.
"We rely on our community," said Jason Billister, vice president of development for the Boise Rescue Mission. "And thanks to our amazing community partners, like Bon Appetit, we were able to provide over 1,200 holiday meals for our guests."
The Mission is 100 percent community-funded, operating five facilities, two in Boise and three in Nampa.
Gross says Bon Appetit is exploring ways to provide more food donations to the community. Doing so safely and sustainably is important, however, so people are exploring the best ways to safely provide those donations.
The College of Idaho has a 128-year-old legacy of excellence. The College is known for its outstanding academic programs, winning athletics tradition and history of producing successful graduates, including seven Rhodes Scholars, three governors, and countless business leaders and innovators. Its distinctive PEAK Curriculum challenges students to attain competency in the four knowledge peaks of humanities, natural sciences, social sciences and a professional field—empowering them to earn a major and three minors in four years. The College's close-knit, residential campus is located in Caldwell, where its proximity both to Boise and to the world-class outdoor activities of southwest Idaho's mountains and rivers offers unique opportunities for learning beyond the classroom.  For more information, visit www.collegeofidaho.edu.