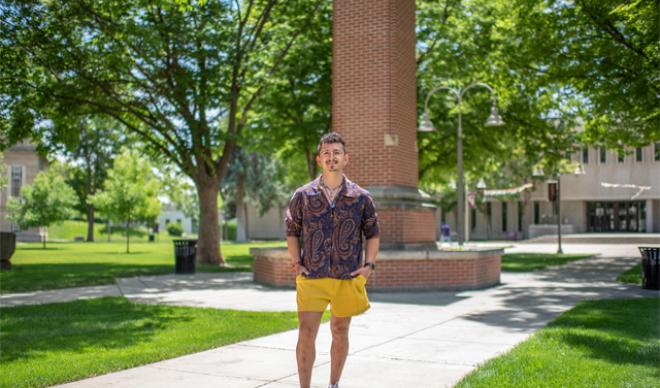 Just weeks after concluding his undergraduate education at The College of Idaho, Armando Guerrero is deep in preparation for a year teaching in Spain as a Fulbright Scholar.
Earlier this spring, the anthropology/sociology major learned he had become just the second student from the College ever selected for a Fulbright Scholarship, one of the most prestigious scholarships in the world. The only other student to earn a Fulbright Scholarship from The College of Idaho is Kathleen Von Bargen in 1965.
"Everything just felt right. I love to travel and I love to teach, so I thought the Fulbright was a great opportunity," Guerrero said. "There's so much to see before I settle here. While I'm young, I want to take advantage."
Guerrero was born in Mexico but raised in Caldwell and speaks excellent Spanish, which is part of the application/selection process. He will be in A Coruña, a coastal city in the northeastern Spanish region of Galicia.
"It was a long process, I had to apply in October. Then in January, they let you know if you're a finalist or not," he continued. "Luckily, obviously, I was a finalist, so that was really exciting. Then, on April 30, they sent out the letters for Spain."
Guerrero says this will be his third trip to Spain, but first to the Galician region of the country, which was part of the allure. He will travel to A Coruña later this summer before beginning work on September 15. The program concludes next June.
Elena Bonmati Gonzalvez, a visiting professor in the College's World Language, Literature, and Culture department, was a Fulbright Foreign Language Teaching Assistant at Lincoln University in Pennsylvania in 2011-12, so she understands first-hand the achievement of Guerrero's selection.
"The selection process is two-fold and very competitive, and Armando has passed two distinct selections," said Bonmati Gonzalvez. "First, he was selected by the Fulbright Commission among many USA students in the USA, and second, he was selected by a grand pool of students to be in Spain."
According to the Fulbright Scholarship website, the Fulbright "provides grants for individually designed study/research projects or for English Teaching Assistant Programs. A candidate will submit a Statement of Grant Purpose defining activities to take place during one academic year in a participating country outside the U.S."
On average, approximately one in five candidates in the United States – about 20 percent – is selected.
The Fulbright Scholarship, named after former Arkansas senator William J. Fulbright, dates back to 1946. Funds are appropriated by the U.S. Congress to sponsor the program. Many foreign governments contribute, as do private donors, corporate partners, and others. The scholarship is binational in nature, meaning international students can be selected as well. Previous Fulbright Scholarship alums include 60 Nobel Prize recipients, 75 MacArthur Foundation Fellows, 88 Pulitzer Prize winners, and 39 current or former heads of state or government. There are also other arms of the Fulbright tree; Luke Daniels, a professor of biology, spent a semester teaching in Indonesia after receiving a U.S. Fulbright Senior Scholar Teaching Award in 2016.
The College of Idaho has a 130-year-old legacy of excellence. The College is known for its outstanding academic programs, winning athletics tradition, and history of producing successful graduates, including seven Rhodes Scholars, three governors, and countless business leaders and innovators. Its distinctive PEAK Curriculum challenges students to attain competency in the four knowledge peaks of humanities, natural sciences, social sciences, and a professional field—empowering them to earn a major and three minors in four years. The College's close-knit, residential campus is located in Caldwell, where its proximity both to Boise and to the world-class outdoor activities of southwest Idaho's mountains and rivers offers unique opportunities for learning beyond the classroom. For more information, visit www.collegeofidaho.edu.