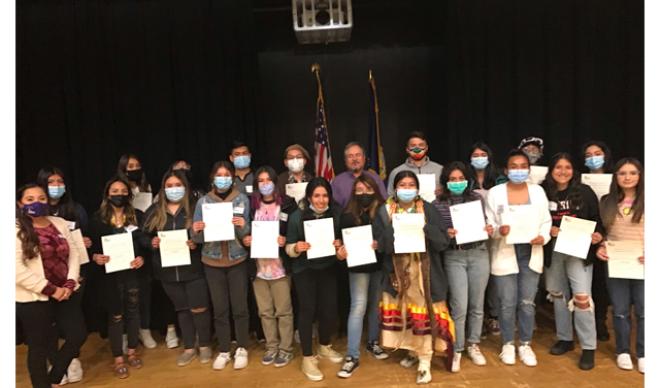 Arnoldo Hernandez spent a recent Monday morning in the car, driving across the state to Pocatello to attend a Hispanic Youth Symposium. His goal was the same as it was at similar symposiums in Twin Falls and in Boise earlier this fall along with other symposiums around the state for more than two decades.
He wants to make the idea of college scholarships real for the students in attendance.
"When we can put the money right in front of them, then we can begin to discuss the process," said Hernandez, the College's Assistant Dean of Students and director of inclusion and intercultural engagement. "Let's get the money in front of them and let them know that it is real."
The money comes in the form of scholarship pledges. Hernandez says many students who attend the symposiums believe that only certain colleges or universities were attainable and some didn't believe higher education was attainable at all. Some are early in the application process for colleges while some haven't started. Hernandez hopes the pledges encourage students to explore the options.
"What's one of the biggest things that students complain about? That there's not enough funding for them," Hernandez reasoned. "So many of them don't understand what kind of funding we offer, the scholarships available to all students. So why don't we bring the scholarships here? Bring them to the symposiums where they are and put our money where our mouth is."
Hernandez handed out scholarship pledges of nearly $2 million to students at the Twin Falls event and another $4.8 million at the Boise event. He, along with assistant director of admission Paloma Magaña '17, issued another $1.4 million in pledges in Pocatello. These pledges represent $15,000 per year (at minimum) for four years to qualified students, students that Hernandez and his colleagues have researched before the symposiums. Many of the students that he meets are first-generation students so they're just learning how the process works. The scholarship pledges, along with the opportunity to meet Hernandez, help show the students that they will have support and can succeed at the College.
Senior Mia Maldonado, who is double-majoring in political economy and Spanish, received one of those pledges at a symposium while she was in high school. As a freshman at the College, Maldonado was a student speaker at the 2019 Scholarship Gala and, in her speech, she told the story about how she found out she had received it.
"My mom was waiting for me to get out of a financial-aid workshop when they started announcing the scholarship winners," Maldonado told an engaged and energetic crowd at the Gala. "By the time I got out of the workshop, I had seven missed calls and 13 texts from my mom. She was standing in the middle of the main room, frantically looking for me. When she found me, she said, 'Mia, C of I called your name, they're going to get rid of your scholarship, hurry!'"
Mia then introduced her mom, who was a guest at the Gala, to cheers from those in attendance. You can watch her entire speech here.
Maldonado's scholarship was never in jeopardy. The pledge didn't come with a time limit. But the excitement and enthusiasm displayed were real – and common.
"When I get off the stage (at the events), there are kids thanking me," Hernandez said. "They didn't know we offered this kind of scholarship. It's not until we put it in their hands that they're able to feel the reality of it."
The College of Idaho has a 130-year-old legacy of excellence. The College is known for its outstanding academic programs, winning athletics tradition and history of producing successful graduates, including seven Rhodes Scholars, three governors, and countless business leaders and innovators. Its distinctive PEAK Curriculum challenges students to attain competency in the four knowledge peaks of humanities, natural sciences, social sciences and a professional field—empowering them to earn a major and three minors in four years. The College's close-knit, residential campus is located in Caldwell, where its proximity both to Boise and to the world-class outdoor activities of southwest Idaho's mountains and rivers offers unique opportunities for learning beyond the classroom. For more information, visit www.collegeofidaho.edu.