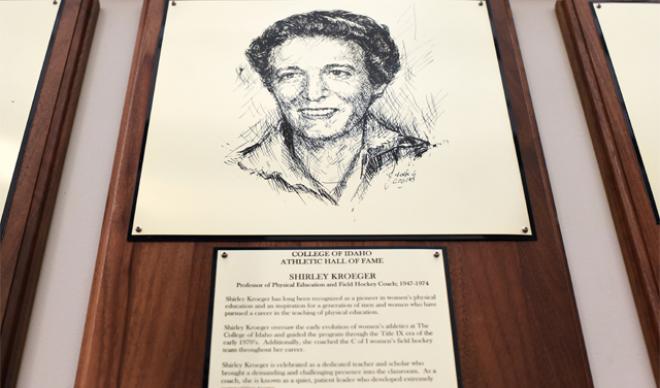 Long-time educator and coach Shirley Kroeger passed away on June 20 at her home in Murphy, Idaho. She was 96 years old.
Kroeger was a physical education professor at the College from 1947 to 1974 and also coached the women's field hockey team. She was inducted into The College of Idaho Athletics Hall of Fame on October 3, 2008.
"Shirley Kroeger was 20 years ahead of her time in terms of promoting women's athletics," said Marty Holly, former athletic director and current special assistant to the Co-Presidents, when she was inducted.
Kroeger was recognized as a pioneer in women's physical education and an inspiration for a generation(s) of men and women who have pursued a career in the teaching of physical education. She oversaw the early evolution of women's athletics at the College and guided the program through the Title IX era of the early 1970s.
"Ms. Kroeger demanded perfection," said Danny Cagle '70. "I learned this when I compared her classes with my daughter's nursing classes many years later."
"She really helped me learn through a valuable hands-on approach so I could apply what I was learning on a regular basis," added Mike Prentice '70.
Evelyn Safford-Jacobs '70 was a member of Kroeger's field hockey program, a sport she stayed with as a player and coach for more than four decades, largely after settling in Australia following graduation.
"I spent most of the 44 years of my teaching career coaching hockey," Safford-Jacobs said of Kroeger's influence. "And I was heavily involved in those communities in their hockey associations. And it all started with Miss Kroeger as we knew her." 
Shirley Kroeger was celebrated as a dedicated teacher and scholar who brought a demanding and challenging presence into the classroom. As a coach, she was known as a quiet, patient leader who developed extremely competitive teams.