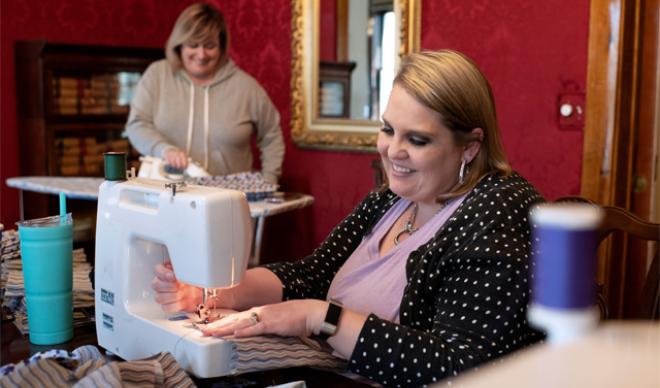 One of the hallmarks of the liberal arts is building a foundation of adaptability. Students at the College are taught to be lifelong learners, so when the unexpected occurs, they are able to adjust, think critically, and solve problems.
So when the need was expressed for students and essential staff on campus to be outfitted with masks as recommended by the Centers for Disease Control (CDC), several staff members snapped into action.
Trisha Phillips '04 is the Senior Event Coordinator in the Special Events & Conference Services Department at the College, and since there are no events or conferences going on due to a statewide stay-at-home order, she has transitioned to a logistics role to support those on campus. When she was approached by the COVID-19 response team about the need for masks, she knew there would not be an opportunity to purchase masks due to high-demand nationwide, so her thoughts went to an unused sewing machine in her home.
"I was asked if this is something I'd be interested in doing and I said, of course, however, I'm not a seamstress, I don't know how to follow a pattern when it comes to sewing," Phillips said.
However, she knew of a co-worker on the Special Events staff who was already making masks for her friends and family and asked for her help. Megan Padilla recently started working for the College (hired in 2020) and had transitioned into a role with the facilities department during the COVID-19 shutdown and was the perfect go-to person for this project.
"Megan sews and she'd already been making masks, so she had a pattern down," Phillips said. "So I was able to get her to come over so we could have her expertise. (Hall Director) Justin Waldron '04 was sewing masks as well, you might as well come hang out with us and help us sew masks too."
In no time, Phillips, Padilla and Waldron had brought their sewing machines from their homes and set up in Blatchley Hall to begin the process of producing 260 masks from scratch. Director of External Relations & Events Deidre Friedli also helped out by ironing pleats in the mask material.
"I found the design on Pinterest," Padilla said. "It started because my cousin is a nurse in Seattle and she could not get masks. She was pleading for people to help, so it started with me sending her 50. And then I sent 50 to New York City. My kids picked out all sorts of cool designs, so that one of them looks like Batman, and he talks like Batman when he wears it."
Padilla has also provided the entire Canyon County Abatement crew with masks. She estimates it takes 30 minutes to complete one mask from beginning to end.
"They've sent me pictures of nurses in New York City who are wearing them," Padilla said. "I never thought I'd buy elastic in bulk, but here I am," she laughed.
"It makes me feel like I'm actually contributing and doing something that's going to make a difference," said Phillips. And she's experienced an additional benefit. "Megan showed me how to work my sewing machine, because I haven't touched it for 11 years. So I was like, yeah, I know how to sew again."
The College of Idaho has a 129-year-old legacy of excellence. The College is known for its outstanding academic programs, winning athletics tradition and history of producing successful graduates, including seven Rhodes Scholars, three governors, and countless business leaders and innovators. Its distinctive PEAK Curriculum challenges students to attain competency in the four knowledge peaks of humanities, natural sciences, social sciences and a professional field—empowering them to earn a major and three minors in four years. The College's close-knit, residential campus is located in Caldwell, where its proximity both to Boise and to the world-class outdoor activities of southwest Idaho's mountains and rivers offers unique opportunities for learning beyond the classroom.  For more information, visit www.collegeofidaho.edu.