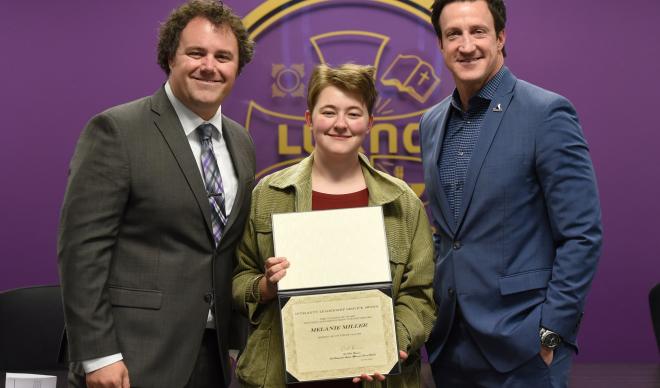 Last week, senior College of Idaho history major Melanie Miller was recognized by the members of the Associated Students of the College of Idaho for her positive impact on the student senate — an impact so significant they named an award after her, the Melanie Miller Award, to be passed into the senate's code for senior senators who have served on the body for their entire undergraduate careers.
This week, Miller added yet another award to her impressive resume, becoming the newest recipient of the College's Integrity, Leadership and Service Award, an award from the Student Affairs Division that is given to students nominated by staff and faculty as someone who best embodies the values of the C of I community. Miller was nominated by Assistant Director of Residence Life and Men's Lacrosse Head Coach Matt Gier, who positively outlined Miller's exemplary community involvement over her four years at the College.
"Melanie is a shining example of what a C of I student can be," Gier stated in his nomination. "Melanie's commitment to academics and co-curricular activities has been impressive, and the impact Melanie has made in her four years has been tremendous."
Miller has spent four years as a member of the ASCI, including serving as the chair of its election board. She has also served as a tutor for the Academic Support Center and a Residence Assistant for the last two years.
"I absolutely love being involved in the C of I community because I love the people who go here and I want to support them as much as I can," Miller said. "When I put myself out there for C of I, it inspires people to do the same, and that's what makes this small community so lively."
The College of Idaho has a 127-year-old legacy of excellence. The C of I is known for its outstanding academic programs, winning athletics tradition and history of producing successful graduates, including seven Rhodes Scholars, three governors and countless business leaders and innovators. Its distinctive PEAK Curriculum challenges students to attain competency in the four knowledge peaks of humanities, natural sciences, social sciences and a professional field—empowering them to earn a major and three minors in four years. The College's close-knit, residential campus is located in Caldwell, where its proximity both to Boise and to the world-class outdoor activities of southwest Idaho's mountains and rivers offers unique opportunities for learning beyond the classroom.  For more information, visit www.collegeofidaho.edu.