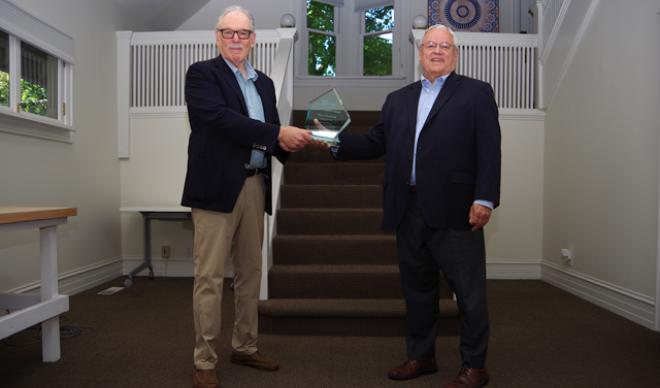 Alan Minskoff, a long-time educator at The College of Idaho, received the 2020 Esto Perpetua Award, one of the state's marquee historical honors.
The Idaho Historical Society describes the award as "the State's highest award of distinction that recognizes individuals and organizations for their accomplishments in Idaho history that have made an impact in public and professional service, volunteerism, and philanthropy." Minskoff, a lecturer in the College's Theatre and Speech Arts department, was one of 14 people to receive the award this year. He was nominated by colleague Diane Raptosh, who serves as an English professor at the College. Art professor Stephen Fisher was also involved in the process.
Minskoff and the other recipients were showcased in a virtual ceremony that will be shown on August 20. He was presented his award in late July when a representative of the Idaho Historical Society met him at the former home of Governor John T. Morrison in Boise, a building that Minskoff and his wife own.
"I think it's very exciting, something I didn't really expect," Minskoff said of the award. "I was very surprised when I got the letter (to announce the honor) and I had no idea they were going to hand me the award. I thought it was just a photo op for them."
In the letter, the Historical Society said, "We are pleased to present this award to you this year for your years of work preserving and promoting Idaho's cultural heritage." Minskoff and the other honorees will be invited guests at the 2021 ceremony as well.
The Esto Perpetua Award, established in 1999, is named for the state of Idaho motto, "let it be perpetual."
The College of Idaho has a 129-year-old legacy of excellence. The C of I is known for its outstanding academic programs, winning athletics tradition and history of producing successful graduates, including seven Rhodes Scholars, three governors, and countless business leaders and innovators. Its distinctive PEAK Curriculum challenges students to attain competency in the four knowledge peaks of humanities, natural sciences, social sciences and a professional field—empowering them to earn a major and three minors in four years. The College's close-knit, residential campus is located in Caldwell, where its proximity both to Boise and to the world-class outdoor activities of southwest Idaho's mountains and rivers offers unique opportunities for learning beyond the classroom.  For more information, visit www.collegeofidaho.edu.