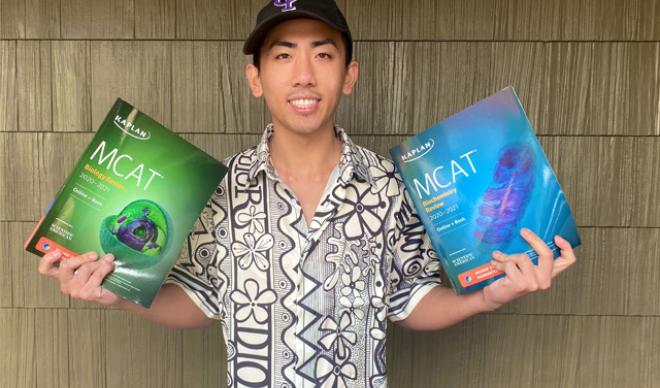 When Kevin Bui noticed a student club devoted to students who wanted to attend law school, he got curious.
Bui, then a freshman, wondered what kind of student-led resources were available for people who wanted to attend medical school. What he learned spurred him to action.
"I looked around campus and didn't see any resources, especially for the Medical College Admission Test (MCAT)," said Bui, now a sophomore. "Every pre-med student knows the MCAT is the biggest exam for med school."
He found that students were studying and preparing on their own. Some, he said, were basically "winging it," so he thought about starting a club.
"So I thought, 'what if we created a group where students could come together, study together, guide each other, and prepare for the MCAT?'" he recalled.
Students traditionally take the MCAT about a year before graduation so they can begin the application process for medical school once they complete their undergraduate work. Due to the COVID-19 pandemic, the group's initial weekly meetings were held online but Bui said early response has been strong. The group plans to meet once a week – whether online or, eventually, in person – but that could change depending on what the group wants or needs. Bui says the club has access to practice tests and study guides that can also help students prepare for the test. The club is geared toward, but not limited to, students who are in the final months before taking the test.
"In essence, it is a big study group. We have a list of topics we'll be covering each week," Bui said. "Any student who wants to prepare earlier, the earlier the better, in my opinion."
For more information on the MCAT Club, contact Kevin Bui.
The College of Idaho has a 129-year-old legacy of excellence. The College is known for its outstanding academic programs, winning athletics tradition and history of producing successful graduates, including seven Rhodes Scholars, three governors, and countless business leaders and innovators. Its distinctive PEAK Curriculum challenges students to attain competency in the four knowledge peaks of humanities, natural sciences, social sciences and a professional field—empowering them to earn a major and three minors in four years. The College's close-knit, residential campus is located in Caldwell, where its proximity both to Boise and to the world-class outdoor activities of southwest Idaho's mountains and rivers offers unique opportunities for learning beyond the classroom. For more information, visit www.collegeofidaho.edu.