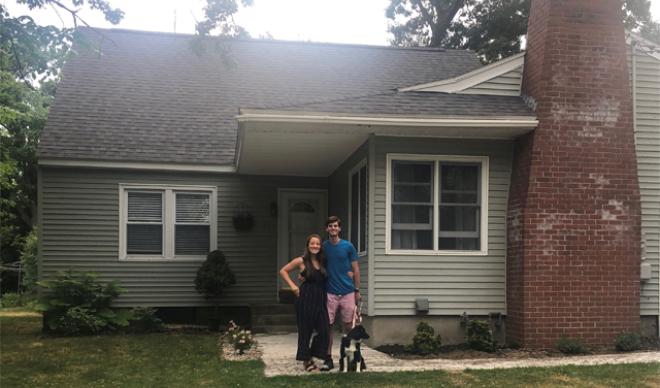 This story is included in the most recent issue of Quest Magazine, the College's twice-yearly Alumni publication. To view the entire issue online, or to view longer-form "Quest Extra" pieces, click here.
In early June, after two months apart, Montana Patton '13 reunited with his wife Adrian Richey '15 at their new home in Vermont as each prepared for the next step in life. 
"I am lucky to have a supportive and understanding partner," Patton said. "The light at the end of the tunnel was better than expected." 
The tunnel, to say the least, was unusual. 
The two first met at the College in 2012. First, in a chemistry class. Then, at Fall Fling on the Quad in the middle of campus. 
"We actually have a photo from Program Council of us dancing in the crowd that night," Richey said with a laugh. 
That's where the journey began. The two, it seemed, were often on the move. After graduation, Patton went to work at St. Luke's Medical Center in Boise before moving on to Lewis-Clark State College to get his nursing degree. Richey graduated from the College and moved to Moscow to attend WWAMI, a branch of the University of Washington's medical school, before moving to Seattle. After marrying in 2016, the pair worked diligently to make sure they saw each other while she was on her med-school rotations in cities like Spokane, Denver, Kansas City, and Boise. 
After finishing his nursing degree in 2019, Patton landed a job at the University of Washington Medical Center while Richey finished her schooling in Seattle. At last, they hoped, they could be a normal married couple.  
And then … COVID-19. 
Seattle was the first known epicenter of the coronavirus outbreak in the United States. Richey was in her final semester of medical school, while Patton was helping to care for one of the first big rushes of COVID-19 patients in the United States. The two leaned on each other (and their new puppy) to get through the tough times together. As the curve began to flatten in the Pacific Northwest, Patton was approached by a recruiter about leaving one epicenter and going straight to another one. 
"I got in touch with the recruiter working with New York-Presbyterian Hospital system in New York City," Patton explained. "(I) slept on the details a few days and discussed with my wife, and ultimately decided that I was in a perfect position and time in my life and career to help out." 
It was an eerie arrival. His flight into John F. Kennedy International Airport had about 30 people on board, each of whom was a health care worker traveling to New York to help. The airport was virtually empty. He visited Times Square shortly after his arrival and saw one other person. Stores that were still open had security guards to ensure customers were wearing masks. He lived in a hotel room by himself. The entire situation would be difficult for most to truly understand. 
He explained that, traditionally, people who are sick enough to be in an intensive care unit in a situation such as the COVID-19 pandemic have their own nurse, a one-to-one ratio. When he arrived, the ratio was four patients for each nurse. Compounding the problem, he said, was that many nurses were calling out sick each shift, which made the patient/nurse ratio even harder to maintain. The hospital had to get creative with its space due to the huge number of patients, turning the cafeteria into an emergency room holding area for patients not sick enough to get admitted to intensive care. The pharmacy was completely overwhelmed, so he often had to mix medication himself since his patients couldn't wait for the pharmacy to catch up. 
He called his first two weeks at New York-Presbyterian, "probably the hardest I have ever worked." 
His two-month stint was in the ICU unit, so victories were hard to gauge. He didn't see patients going home; he saw them transferred to other spaces in the hospital. But something he heard served to buoy up spirits. 
"They played Journey's 'Don't Stop Believing' on the hospital overhead speakers every time a patient was sent home," Patton said. "It was an amazing change of pace for the psyche from the constant calls for help. There was a collective whisper of 'yes' from each of us when the song was played." 
The experience was rough. Husband and wife, nearly 3,000 miles apart. One finishing medical school, one serving an overloaded area in the midst of a pandemic. 
"Overwhelming, emotional, sad, frustrating," Richey said when asked to describe the time. "I didn't have my person to lean on, he's a million miles away just trying to keep afloat too. But he continued to be the supportive, loving, amazing husband and supported me when it was all too much." 
Patton worked the night shift and, due to the infrequency of days off, kept himself on a schedule that meant being up at night, even if he wasn't working. 
"FaceTime (calls) was a savior," he said. "Otherwise, it was extremely lonely." 
The pair put their heads down and pushed through the tough times. Richey graduated from medical school and moved to Vermont to begin her professional residency in urology at the University of Vermont. Her assignment there will last five years. Patton finished his temporary assignment at New York-Presbyterian in early June and immediately traveled to Vermont to reunite with her and their dog and to prepare for his next step at the University of Vermont Medical Center. He had to quarantine after his experience in New York. After two weeks of projects around the house, the couple had reached the end of that tunnel. 
"We are so thrilled to be home," Patton said. "Our new house really feels like home. The pets and humans alike are glad to have some nice space and for us to be together and healthy." 
Richey agreed. The journey from Fall Fling in 2012 to Vermont has been unorthodox but worth it. 
"I know I won't remember how hard it was," she said. "I hope I just remember that #MTismyhero, that Montana continues to be the best person I know." 
The College of Idaho has a 129-year-old legacy of excellence. The College is known for its outstanding academic programs, winning athletics tradition, and history of producing successful graduates, including seven Rhodes Scholars, three governors, and countless business leaders and innovators. Its distinctive PEAK Curriculum challenges students to attain competency in the four knowledge peaks of humanities, natural sciences, social sciences, and a professional field—empowering them to earn a major and three minors in four years. The College's close-knit, residential campus is located in Caldwell, where its proximity both to Boise and to the world-class outdoor activities of southwest Idaho's mountains and rivers offers unique opportunities for learning beyond the classroom.  For more information, visit www.collegeofidaho.edu.