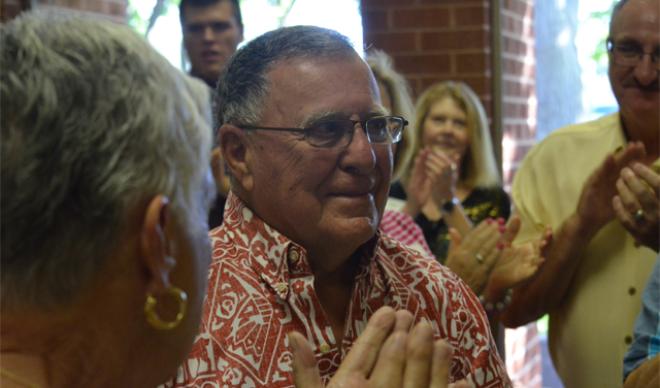 This story is included in the most recent issue of Quest Magazine, the College's twice-yearly Alumni publication. To view the entire issue online, or to view longer-form "Quest Extra" pieces, click here.
Each Saturday in the fall, after College of Idaho football games in Caldwell, head coach Mike Moroski has his post-game routine. 
He meets with the team, he greets friends and families on the field, he fulfills any media obligations. And then he walks back from Simplot Stadium toward his office with his wife, through the tailgating area in the J.A. Albertson Activities Center parking lot for one more important stop at the tailgate of former football player and head coach Ed "Buz" Bonaminio '56. 
"It just became a tradition to go see Buz," Moroski said with a smile. "In the early years, there were more losses than wins but he was always supportive. Even if it is terrible weather, he will be waiting for me." 
Bonaminio, now 89 years old, came to the College in 1952. A friend in Chicago convinced him to travel west to try out for the football team. He asked his father, who offered his support. 
"Go to Idaho," he recalls his father telling him. "Chicago will always be here." 
He left a job at a steel mill with a group of friends to drive to Caldwell. The campus was so small at the time that the carload of friends drove by three times before finally finding their new home. He made the team and, in four seasons, rushed for 1,351 yards, which still ranks among the top marks in school history. He marveled at Idaho's lack of humidity; the locals marveled at the group of Chicago boys who came to Caldwell to play football. 
"Their friendliness and their willingness to embrace us," Bonaminio said of what convinced him to stay in Idaho. "We decided we were going to stick it out. From that point on, we embedded ourselves in Idaho." 
And with that, something remarkable happened. The midwestern boy who came to Idaho to play football never left. He graduated in 1956 with a degree in physical education teaching before taking a job at Caldwell High School. Then, in 1965, he became the head football coach at the College. He held that post until 1971 before transitioning into the sporting goods industry, never leaving the Boise Valley. He married his wife, Bobbi, in 1960 and they raised four children: Gus, Tony, Angela, and Gina. All four attended The College of Idaho. The College had become a big part of the fabric of Bonaminio's life. 
"Definitely, oh definitely," Bobbi said warmly. "I've gotten very fond of the College through him and the children." 
The football program was closed after the 1977 season but Bonaminio was not going to let it go away without a fight. Former athletic director and head basketball coach (and now special assistant to the co-presidents) Marty Holly came to the College after Bonaminio left the athletic department, but Holly got to know him well almost from the minute he arrived on campus in 1981. 
"From day one, he was knocking on my door, wanting to add football," Holly remembered. "I don't know if we would have re-started football without Buz Bonaminio." 
It was Bonaminio's belief and determination that fueled his energy. 
"Every time we would get a new president, he would be the first one in the door. He would go to them over and over to ask if they had given it (re-adding the football program) any thought," Holly said. "He believed in what football does for a campus, so much so that he would not take no for an answer." 
It took several years with a lot of support before Bonaminio and the other allies got the "yes" they had been waiting for from then-president Marv Henberg and the school's Board of Trustees. In 2013, the College announced it was bringing the football program back. Then, on September 13, 2014, in front of nearly 5,000 fans, The College of Idaho scored the game's final ten points to defeat Montana Western, 31-28, in the school's first home football game since 1977. 
"We felt that, if we got football back, everything else would fall into place," Bonaminio said. "And that's exactly what happened." 
Somewhere along the line, "Buzz" was shortened to "Buz", but Bonaminio remained a big name around the College. Now, on most gamedays, you can find the Bonaminio family together in the stands at Simplot Stadium, sitting among the fans that have been among the NAIA's leaders in football attendance for the past several years. They don their purple and cheer on the team and then anxiously await the post-game visit from Coach Moroski, who has been the College's head coach since the program was re-instituted nearly a decade ago. Moroski describes the visits as supportive, collegial. 
Of course, there is some football talk between the two coaches, but that is to be expected. 
"The 'coach' within coaches never dies," Moroski laughed. "It is still there for Buz Bonaminio." 
As Moroski sat inside his office on campus, an office that has been named after Bonaminio, he reminisced fondly about his game-day visits with the man who drove to Idaho, sight unseen, 70 years ago to compete for The College of Idaho. 
"It means so much to him," Moroski said. "It's back and it's the place to be on a Saturday afternoon." 
And it always will mean that much. 
"It's always been a part of my life," Bonaminio said. "Everything stems from the College." 
The College of Idaho has a 130-year-old legacy of excellence. The College is known for its outstanding academic programs, winning athletics tradition, and history of producing successful graduates, including seven Rhodes Scholars, three governors, and countless business leaders and innovators. Its distinctive PEAK Curriculum challenges students to attain competency in the four knowledge peaks of humanities, natural sciences, social sciences, and a professional field—empowering them to earn a major and three minors in four years. The College's close-knit, residential campus is located in Caldwell, where its proximity both to Boise and to the world-class outdoor activities of southwest Idaho's mountains and rivers offers unique opportunities for learning beyond the classroom. For more information, visit www.collegeofidaho.edu.