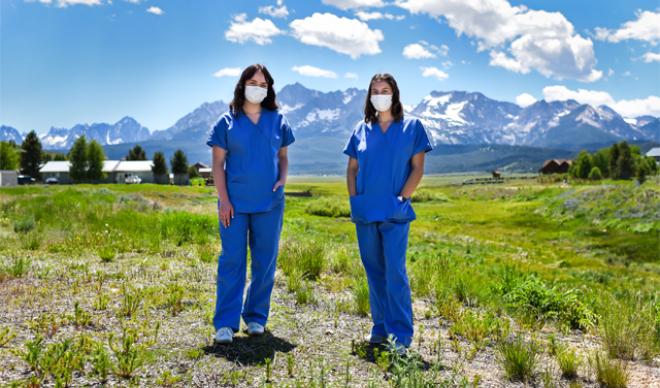 This story is included in the most-recent issue of Quest Magazine, the College's twice-yearly Alumni publication. To view the entire issue online, or to view longer-form "Quest Extra" pieces, click here.
June 25, 2020 
Life appears normal on the Idaho frontier. Nestled at the foot of the towering Sawtooth Mountains, the small town of Stanley is preparing for the summer tourist season. Rafting guides are setting out on the Salmon River. Campers pull into the Mountain Village to fill up on gas. Locals and visitors alike grab a slice at the only pizzeria in town. Stanley is where people go to escape. The concern this year is that Stanley may be where people are going to escape COVID-19. With only one health clinic in town, two College of Idaho interns are learning firsthand about rural medicine during a global pandemic. 
Each year, two students from the College intern at the Salmon River Clinic. This summer, biomedical science majors Caly Thurston and Zoe Young were selected for the internship. Both students have learned about pandemics in the classroom. But it's different experiencing one while on the job. Thurston and Young have been assisting in testing patients with symptoms, and they suit up with personal protective equipment, commonly referred to as PPE. 
"When you put the outfit on, you realize it's not just a story or something you see on the news; it feels real," Young said. "There's a constant list that runs in the back of your head, and so it's scary because you have to put the patient first, but at the same time, if you mess up, you could be potentially at risk too." By this day in late June, around 500 Idaho health care workers had been infected with COVID-19. 
Every time a patient comes into the clinic to be tested, the medical providers take the necessary precautions. "There are only five workers at the clinic, so if one of us gets sick and spreads it to our coworkers, it could shut down the clinic, which would be bad for the community," Thurston said. 
The clinic is equipped with an Abbott ID Now COVID-19 test, which can produce results in under 15 minutes. "There are only 15 in the state of Idaho currently, so we were lucky to receive one of those, because we are pretty isolated," Thurston said. The test involves collecting samples with nose swabs. The clinic also offers an antibody test that confirms if a person was previously infected. 
Along with testing patients for COVID-19, the students help with routine checkups, assist with search and rescue, scribe during ambulance runs, and receive an EMT (emergency medical technician) license. They both plan to attend medical school or a physician assistant program and envision practicing rural medicine in the future. For that reason, the Salmon River Clinic is a valuable experience. The next closest health care facility is just over an hour away in Ketchum. The Sawtooth Valley is an isolated place. And the close-knit community makes it an appealing location to practice rural medicine.  
"This is my dream place; it's my dream job," said Amy Klingler, MS, PA-C. Klingler is the physician assistant at the clinic and helps oversee the College interns. Though the community is far from a large regional medical center, Klingler is happy to be able to provide quality health care to locals and visitors.  
The remoteness is also a reason people travel to Stanley during the summer. And because of COVID-19 and rising cases in surrounding communities, there's cause for concern. "What I have seen play out is that people come to Stanley to escape COVID," Klingler said.  
In the spring, there was some question as to whether Thurston and Young would be able to do the internship. "I actually had to think about it for a minute and wonder, do I want that extra exposure for us and for them," Klingler said. But in the end, the help the students from the College provide is essential. "I always look forward to it, and it's great having them." 
Thurston and Young are thrilled to have this opportunity. And they have learned a lot about the virus since the internship began. They participate in weekly interviews with Crush the Curve Idaho via Zoom and learn about how Idaho has been impacted through conversations with medical experts. "I think it's very important that everyone works together to raise awareness to COVID, because we are dealing with testing shortages," Thurston said. The clinic will only test patients who have had direct exposure or are symptomatic. "It makes it hard, because there are a lot of people walking around without symptoms that have it but can't get tested." When it comes to prevention, "masks really do make a big difference," Thurston said. 
Young added, "Being able to see how the health care system works in person and how it works in response to a global pandemic is something I've learned a lot from. We always have to remind patients that even if you get a negative test, it doesn't mean you are negative for COVID." Pre-symptomatic people are more likely to get a false-negative test result before the onset of symptoms.  
"We all need to be on the same page looking out for each other," Thurston said. "I think if everyone wears masks, washes their hands, we can help each other as a community. Whether it's up in rural Stanley or the community at C of I."  
The College of Idaho has a 129-year-old legacy of excellence. The College is known for its outstanding academic programs, winning athletics tradition and history of producing successful graduates, including seven Rhodes Scholars, three governors, and countless business leaders and innovators. Its distinctive PEAK Curriculum challenges students to attain competency in the four knowledge peaks of humanities, natural sciences, social sciences and a professional field—empowering them to earn a major and three minors in four years. The College's close-knit, residential campus is located in Caldwell, where its proximity both to Boise and to the world-class outdoor activities of southwest Idaho's mountains and rivers offers unique opportunities for learning beyond the classroom.  For more information, visit www.collegeofidaho.edu.