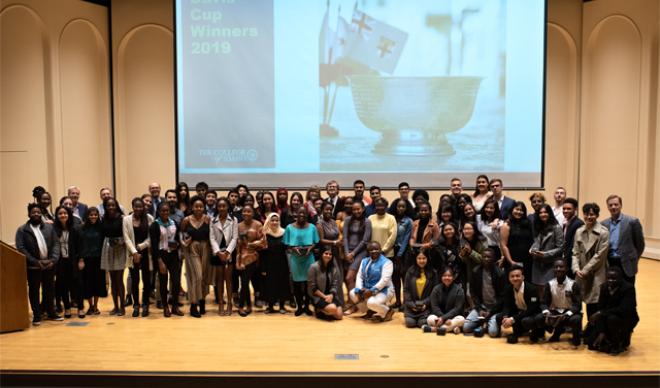 The following is from the Fall/Winter issue of Quest Magazine. To view the entire issue or to read some longer-form versions of past Quest stories, click here.
Planting the Seed 
An argument can be made that the genesis of one of the most significant advances in the makeup of The College of Idaho's student body was birthed in Seoul, South Korea by a man who was not an alumnus and you could count the total number of times he stepped onto The College of Idaho campus on one hand.  
In 1989, Dennis John Bava, who was in charge of all of Asia for International Paper, faced the prospect of moving his family from Seoul, South Korea to Taipei, Taiwan, without knowing the quality of education that would await his son in Taiwan. A professional colleague informed Bava of a school he had sent his son to, a United World College in New Mexico. He researched the UWC program, talked more about it with colleagues, and eventually decided to send his son there for his junior and senior years of high school. 
As an American student living abroad, attending international schools was second-nature for Bava's son. Word arrived at the UWC in New Mexico that a new student from Korea was arriving, which created a bit of an awkward first impression. One of the second-year students there was Korean-Canadian. "She was all excited that there was going to be another Korean student there," said the younger Bava. But when they met, "she said, 'you're not Korean!' and I said 'no I'm not. I lived in Korea but I'm not Korean.'" They laughed about it at the time. 
Those types of introductions, which involved recognizing misconceptions and accepting differences, finding ways to coexist with cultures from all over the world, are the backbone of the UWC system.  
The younger Bava arrived on the campus of The College of Idaho in 2005 as the new assistant director of outreach services. "At the time, there were like six or eight international students that were here," he said. Bava recognized the International Baccalaureate Diploma earned by many graduates of UWC schools transitioned quite well to a liberal arts education model, and before long, the College was "all-in on being I.B. friendly and giving scholarships to I.B. students." By 2006, the College had officially applied to become a full-member school in the UWC Davis Scholarship Program. The program, funded by the Shelby Davis family, provides scholarship funds to UWC students to attend college at participating institutions in the United States. By the time Bava left the College for a position at a law school in 2013, there were over 100 international students on the Caldwell campus, a good majority of them were Davis Scholars. "The only way that this happens, we get to the point that we are today, is by having support from the administration," Bava says. 
Bava returned to the College in 2018 to become vice president of enrollment management. Since then, Brian Bava and his admissions team, particularly Director of International Recruitment Greg Franz, have led a recruitment effort that resulted in the most recent class of international students being the largest in school history and the largest first-year class of Davis Scholars (69) at any American school in the history of the Davis Scholar program. It earned the College the UWC Davis Cup trophy, which had been held for six-straight years by the University of Oklahoma. The College is currently home to nearly 180 international students representing 88 different countries, with a full 18-percent of the student population coming from outside the United States. 
"It's incredibly rewarding to see it happen," says Bava. "The reason I championed this was … I know the type of students we're getting. I know the academic background they have. I know the skill development that happens in the UWC in terms of being able to be away from home, being in a residential community, being part of a community. Why wouldn't you want students like that in a community like ours?"  
The College of Idaho does. 
Cultivating the Crop 
There is another major benefit of having a diverse population on campus. "Being able to sit in a class, a small class, and have representation from the world in that classroom," says Bava. "To me, that's the magical piece of having international students on our campus." 
This can be particularly beneficial for rural domestic students to learn viewpoints from around the world. 
Sophomore Josh Andersen is a sixth-generation Oregonian. His father has only lived in two houses in his life. And Josh admits that it is very possible he winds up back near the community of Vale, Oregon, working in agriculture once he graduates from the College in two years. 
"I grew up speaking farmer and rancher, so I got that down pretty good," the political economy major laughed. "Now I'm learning to speak politics and economy and ecology and law because I think it all ties together." 
A big part of the puzzle for Andersen has been openly embracing the College's global mindset and international flavor. 
"The perspective the international students bring in is something that I appreciate," Andersen said. "It really helps bring in a broader perspective and it helps me learn more." 
He says it started young. His parents, Dan and Lynette, have friends all over the world and help to support people working in several countries as missionaries. It led to Josh and his two brothers traveling internationally and being exposed to – and engaging with – a multitude of cultures, which helped drive the sense of value for people whose backgrounds differ from his. 
"They (his parents) understand the perspective and how much it adds to a person's life," Andersen said. "It's something I've grown up around and it's something I've grown up appreciating." 
The perspective humanizes places and events that otherwise may seem distant. 
"When I hear about developments in Nigeria, I'll think about my friends I know from there. When I hear about developments in Costa Rica and Panama, I'll think about it," Andersen continued. "I'll think about my friends from Peru and Chile and Argentina. There are faces associated with these places now." 
He told a story of taking students from Nepal to the farm once and it grew into a gathering of friends from the community around an apple cider press with the family and students. Now, there are plans in the works for Andersen to take all of the College's Nepalese students to Vale to share in that experience. 
"Being able to share that experience with others really does mean a lot to me," he said. "It helps them understand who I am and why I am that way, and it helps us build our friendships. Some of my best friends are people from all around the world." 
The Fruits of the Labor 
Andrew Clifford is a super-smart junior from Meridian, Idaho, double-majoring in math/physics and chemistry, has broken 14 school records in his collegiate swimming career so far and is an eight-time All-American in the sport. He is soft-spoken, tended to keep to himself when he arrived on campus, and is a gifted musician. 
Lamine Keita is an equally smart junior from Senegal, a country in West Africa, graduated from the UWC in New Mexico, is double-majoring in mathematics and computer science, doesn't have a problem expressing his emotions, and is more likely to be found on a soccer pitch than anywhere near water. 
In the best way possible, these two have become great friends, roommates, and amazingly, teammates on the College's varsity swim team. 
They ran into each other a few times in Hayman Hall when they were freshmen, had a few classes together in Boone Science Hall, and when they learned of their shared drive toward academic excellence while keeping similar sleep schedules, they thought they might be good roommates for their sophomore year. They agreed by text message. 
Nothing is an endorsement for the success of a roommate relationship more than the commitment to do so for a second year, which Andrew and Lamine have done. Each will tell you they are a better student and person because of the other. "We were already close before," says Lamine. "But then once we became roommates, the bond just got deeper and deeper. We just talk about everything together." 
Evidence of each other's influence on the other can be found in the type of music Andrew now enjoys that was introduced by Lamine, and an electric guitar that is in their room, purchased by Lamine after finding he enjoyed playing Andrew's bass guitar.  
Their relationship has inspired more significant changes too. Andrew describes himself as "very mellow." But now, "I try to be more expressive of what's on the inside. Expressing your emotions, making people know that you appreciate them, I've learned all of that from him." 
The changes in Lamine are much more public-facing. While roommates their sophomore year, Lamine took notice of Andrew leaving at 6:00 a.m. for swim practice and heading off to the pool in the afternoon for a second practice nearly every day. He admired the commitment he saw. "I mostly stayed in my room," Lamine said of his own extra-curricular activity level. "I needed something to fill a void." 
So Lamine decided to try out for the swim team; a sport he barely knew. "That is something I would enjoy spending my time on because it could make me a more well-rounded person." 
Lamine started practicing with the team a bit during his sophomore year before making the full-commitment decision to try out in the fall of his junior year.  
"It takes some willpower," Lamine says. "It's hard when everybody is so much better than you. You take your courage, and you say 'I don't care.' You just throw that fear of looking bad in front of others away and you just put yourself out there and you swim. Even though you swim slow, you just finish the race." 
And he reached the goal. Lamine made the team. 
"He just keeps getting better at an astonishing rate," Andrew says. "It's really amazing that he's made it this far because I don't know if there's anyone on the team as dedicated as him and Danny (Mendez-Castrillo, another international student who made the team)." 
Lamine has not advanced to the level yet where he has made the competitive team. When he gets discouraged, Andrew is there. "Sometimes when I'm a little down, he's like 'don't give up. You are new to this. Don't be so harsh. We've been doing this for our whole lives and you've been doing this for like, two years. Don't put yourself down too much,'" Lamine recalls. 
They'll tell you with a smile, though, that one area where there is no sign of influence from Lamine to Andrew is Lamine's peculiar culinary tastes. Says Andrew: "He'll just drink half-n-half instead of whole milk. I don't think that's normal in any culture. I think it's just Lamine." 
Despite the difference in taste buds, the two roommates from opposite ends of the globe know they have built a bond that will endure. "I think our friendship is going to last," Andrew said. "There's no way around it." 
A Lifelong Harvest 
These are precisely the types of bonds the founders of UWC schools envisioned when they started the first venture in 1962. Bonds that not only educate, but build peace. 
Those bonds and the value of multiple viewpoints to enrich academic discussion and perspective are the same values Brian Bava experienced as a teenager in a UWC school. "The fact that we can replicate the UWC experience in terms of classroom dynamic here is to me very special and very gratifying," said Bava, "and at the end of the day, when I'm retired, it'll be the thing that I'm most proud of doing." 
Which brings us back to the beginning of our story. Dennis John Bava passed away in 2011. But his influence on the cultural richness of The College of Idaho was already in motion, starting with the care he took in choosing his son's education. A fund exists at the College in Bava's name. It is an emergency fund to assist struggling students. It gives help in the name of someone who helped bring the world to Caldwell.  
The College of Idaho has a 129-year-old legacy of excellence. The College is known for its outstanding academic programs, winning athletics tradition and history of producing successful graduates, including seven Rhodes Scholars, three governors, and countless business leaders and innovators. Its distinctive PEAK Curriculum challenges students to attain competency in the four knowledge peaks of humanities, natural sciences, social sciences and a professional field—empowering them to earn a major and three minors in four years. The College's close-knit, residential campus is located in Caldwell, where its proximity both to Boise and to the world-class outdoor activities of southwest Idaho's mountains and rivers offers unique opportunities for learning beyond the classroom.  For more information, visit www.collegeofidaho.edu.