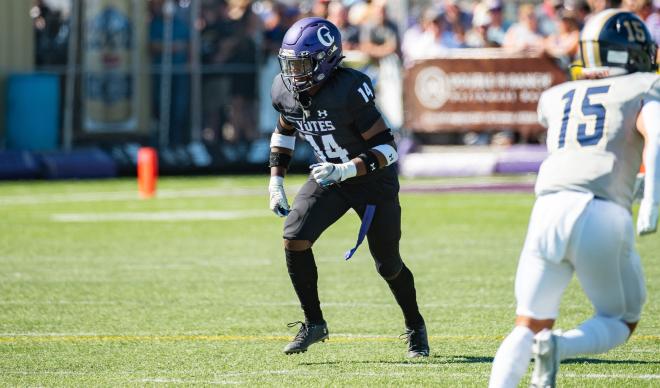 This story is included in the most recent issue of Quest Magazine, the College's twice-yearly Alumni publication. To view the entire issue online, or to view longer-form "Quest Extra" pieces, click here.
Jacob Batubenga had a decision to make. 
He had come to the College three years earlier with the intent of pursuing an engineering degree via the school's 3-2 program, where students earn a bachelor's degree from the College in three years before transferring to a partner institution to spend two years earning an engineering degree. 
However, he had one year of football eligibility remaining and, after starting the previous two seasons, he wanted to compete for another season with the Yotes, which meant not transferring to another institution to study engineering. 
So he altered his game plan. The father of a long-time friend works at Micron Technology in Boise and connected Batubenga – a math-physics major – for an internship opportunity as a layout engineer. 
"The thing about layout engineering is they (Micron) want to make it more versatile so you don't have to have an engineering degree," he explained. "They want to make it open to physics majors, any STEM (Science, Technology, Engineering, and Mathematics) major, even art majors." 
Basically, any academic program that lent itself to strong spacial-relation skills, he said. Days after the conclusion of his junior year last spring, he headed to the Atlanta Design Center, Micron's new, state-of-the-art facility in Georgia. Once there, he and a small group of interns served as trailblazers, helping Micron to develop improved training modules and methods for its layout engineers. 
"I take the schematics and designs of the chips that they have and then I physically lay them out in a program," he said. "From there, my layouts will be verified to see that they work and then they print them out."  
His work was so impressive that he was offered a job by Micron. He'll complete his undergraduate education this spring, graduate, and then return to Atlanta to begin work full-time this summer. 
"The new layout engineers they had just hired were coming to us interns and asking for help," Batubenga said. "We were just the interns, but we had the most experience there." 
Part of his success during his internship can be traced to his time spent on the football practice fields. 
"The parallel is definitely there," said Batubenga, who played in 27 games at defensive back for the Yotes, making 129 tackles and intercepting one pass along the way. "You're learning what you're weak at and what you don't recognize and seeing how you can fix it." 
And part of the reason he was so anxious to join the Micron team after graduation was another parallel. 
"They're people focused. It's not just 'get your job done' and that's it. They try to build their community," he explained of his time with Micron thus far. "This school is also people-focused." 
In football, game plans change but the end goal remains the same – to win the game. For Batubenga, the game plan changed, but the result will be the same. He'll graduate from the College and become an engineer, thanks to his internship with Micron Technology. 
"It opened up the door for me," he said. 
The College of Idaho has a 131-year-old legacy of excellence. The College is known for its outstanding academic programs, winning athletics tradition, and history of producing successful graduates, including eight Rhodes Scholars, three governors, and countless business leaders and innovators. Its distinctive PEAK Curriculum challenges students to attain competency in the four knowledge peaks of humanities, natural sciences, social sciences, and a professional field—empowering them to earn a major and three minors in four years. The College's close-knit, residential campus is located in Caldwell, where its proximity both to Boise and to the world-class outdoor activities of southwest Idaho's mountains and rivers offers unique opportunities for learning beyond the classroom. For more information, visit www.collegeofidaho.edu.