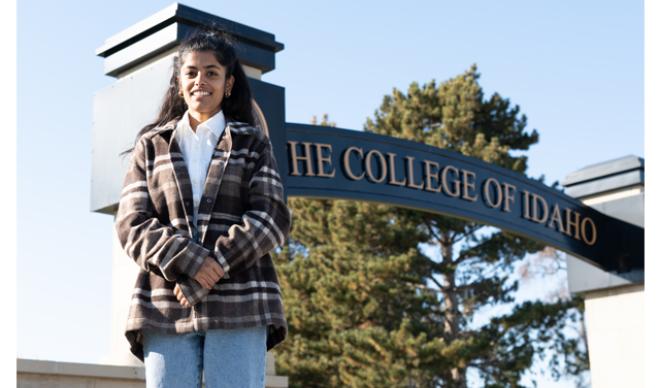 This story is included in the most recent issue of Quest Magazine, the College's twice-yearly Alumni publication. To view the entire issue online, or to view longer-form "Quest Extra" pieces, click here.
From an early age, the odds were against Priya Ramesh ever being able to climb out of the harsh reality of life in a rural village on the outskirts of Bangalore, India, where there is scarce access to running water and toilets. 
Priya grew up with only her mom, a single parent who didn't have an opportunity to go to high school and had to juggle multiple jobs to ensure Priya had what she needed. Priya's mother looked for opportunities to give her daughter the education she never had, which eventually, in a lucky turn of events, led to an amazing opportunity. At age four, Priya was accepted to a boarding school called Shanti Bhavan on a scholarship reserved for families that earned less than two dollars a day. This marked the beginning of her ascent into education, leadership and community. 
Shanti Bhavan became Priya's home. It gave her security, stability – and running water. The goal of the school is to provide a high-quality education to help break the generational cycle of poverty. At Shanti Bhavan, Priya was always at the top of her class, which enabled her to get in to an international high school, United World College (UWC) ISAK in Karuizawa, Japan. There she was exposed to the world of the outdoors and was given small leadership roles. She was a guide for her peers and led people on small hiking adventures around the perimeter of the campus. She fell in love with not just nature but also leading people to experience outdoor activities for the first time.  
Her interest in nature also helped her decide where to apply for college. She was already interested in The College of Idaho and the PEAK curriculum, but when she saw online photos of a robust Outdoor Program (OP), she knew she had found the footing for her next step. 
The Outdoor Program provides equipment, training, and opportunities for students, faculty, staff, and alumni of all abilities to participate in a variety of outdoor activities. Student-led, it emphasizes skill acquisition, leadership development, community and team building, environmental awareness, risk management, stewardship and adventure. 
Priya knew she wanted to be involved, but she was not aware of how big an influence she would have on the program. Nor did she have a hunch that she would become a student trip leader, being responsible for her peers' safety and guiding them through good and challenging times during trips. "The Outdoor Program showed me not only how much I had to learn, but also the impact I can leave on people, which made me more of a mature person," Priya said. 
Now a senior, Priya values her multiple internships but points to her work as a leader in the Outdoor Program as the most transformational. "Having exposure into hard and extreme situations has taught me how to be organized and think clearly in heated or stressful moments," said Priya, "which is a skill that I have used not only in my internships and classes but also other aspects of life." 
She has learned survival-type hard skills, but Priya also identifies some soft skills as equally beneficial. They have given her courage to reach out to executives, make presentations in a confident matter, and become a strong team member. As she looks to pursue a career in consulting, she sees these as useful skills that can catch the eye of recruiters and transfer into the professional space.  
Outdoor Program Director Poe Stewart has worked with Priya for years and witnessed her growth as a leader and a person. "She has grown in her level of overall confidence as her outdoor leadership skills and abilities have matured," Stewart said. "She has emerged as a creative, gritty, and tenacious leader who can problem solve, think on her feet, and persevere through adversity." 
One of Priya's priorities in life is ensuring access to beneficial experiences, which is why she advocates for getting others involved in Outdoor Program opportunities. Through leading and encouraging others to try climbing, her own favorite outdoor activity, she has not only increased student interest in climbing activities but has also attracted new trip leaders who will pass on the knowledge and tradition. "Priya has helped shape the current Outdoor Program in many ways, from planning and co-leading our Trip Leader Training for incoming leaders to being active in suggesting and planning new OP trips for future semesters," Stewart said. "Her impact on the OP will benefit many future trip leaders and trip participants for years to come." 
Priya, who speaks seven languages, will graduate in May with a double major in marketing/digital media and international political economy. She has minors in natural science, Spanish, and professional foundations. Her internships have focused on marketing and digital media, but she has consulted with Latonia Haney Keith, vice president of High Impact Practices (HIPs), about available cross-disciplinary opportunities. "I was talking to lobbyists, and Latonia actually suggested that I reach out to her, as there are a lot of opportunities with lobby firms" Priya said. "This is something I would have never thought about if HIPs didn't have a program developed for it." 
Through each step of her ascent – all the backpacking, rafting, and climbing expeditions she has led, the many academic avenues she has traveled – she is aware that her journey is not a singularly beneficial endeavor. She has gained from these multiple opportunities, but so have those she has led. In her view, just having choices is a benefit to her and others. "I really care about giving back to my community. I'm first of my family who can speak English, that's been abroad, that's been to college. It's a big deal for me to be here," she said. "Having opportunities, having access, and having choices is a really big deal. Having a program at the College that can provide that, and really help me give back not just to The College of Idaho but the community in Idaho is really meaningful." 
Knowing she has gained skills that will lead her to multiple career opportunities, she keeps in mind where it all started: the sacrifices her mother made in India. She plans to make a difference in multiple communities, including her original one in India. "Realizing the impact that I can make not only on my mom's life but also knowing that I'm much closer to my dream of actually giving back to the community and the society back home is super real, and it's also a motivating factor for me to do well here." 
Hena Cevro, a marketing & communications intern at the College, wrote this story.
The College of Idaho has a 132-year-old legacy of excellence. The College is known for its outstanding academic programs, winning athletics tradition, and history of producing successful graduates, including eight Rhodes Scholars, three governors, and countless business leaders and innovators. Its distinctive PEAK Curriculum challenges students to attain competency in the four knowledge peaks of humanities, natural sciences, social sciences, and a professional field—empowering them to earn a major and three minors in four years. The College's close-knit, residential campus is located in Caldwell, where its proximity both to Boise and to the world-class outdoor activities of southwest Idaho's mountains and rivers offers unique opportunities for learning beyond the classroom. For more information, visit www.collegeofidaho.edu.